On a foggy morning in Standasen, everyone was talkative. Many citizens were preparing for a football game, the first in a long time. The stadium was cleaned up, people were preparing, some people even took off from work just to enjoy themselves today. Though, easier was said than done, since the rifts that littered the islands seemed to hide a layer of tension below every person. More people were getting scared, sad, angry. It was slowly getting stressful. It was only natural right? Suddenly a supernatural event occurs that can't be denied, and everyone is just supposed to accept it so easily? It isn't that simple. But at least today would be the day that everyone could get some relaxation....right? Well, sort of.
It was an early morning game. Everyone was excited to get this rolling, and people were piling seats like it was the end of the world and this was their last game. People were shouting and cheering before it even begun. Everyone finally had their chance to get their day of excitement in the midst of all of this sadness and stress. And then, a few minutes before the teams were set to come out, something would interrupt.
It began with a simple thickness of the fog; no one really paid any mind to it. Everyone figured it was from the weather, but soon the fog grew thicker, and not just thicker, but also dispersing around them, filling the seats and the sky with the fog, but clearing up the actual field. That was when people were confused; some were already leaving. And soon, dark purple and black winds began to seep through the grounds of the field, forming a swirl and spinning around the edges of the field. Many were panicking, and some were leaving, but this time, unlike the broadcast, people were looking in sheer awe at this. It was less of them being puzzled and more bewildered and curious. This was obviously unlike the surreal events before, and this time more intimidating and dark. As the dark winds picked up, the center would begin to fade away, into a mass of black and purple, which spread to the edges of the field like it was eating it away.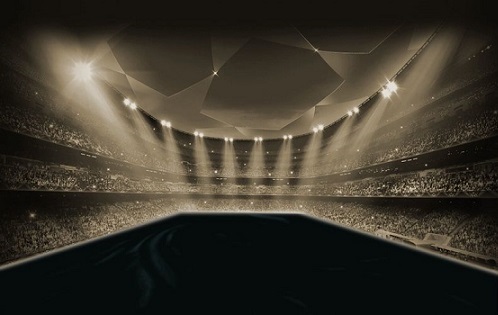 The mass turned into almost a pool of darkness, which looked far deeper than the ground once was, and in the midst of this, with all of the people shouting and pointing, a single figure would pull themselves out of the middle of the darkness like they were escaping from being buried.
This person was female, with long red hair, odd gaudy dark clothing, and emanated a purple-green mist from her that practically constricted the airflow of anyone who may try to get near her. Simply put, she looked like poison.
The woman stood upon the darkness as though it was just a floor and looked around at the people who were still here, in shock of what had just happened, and she would respond with a low chuckle. "It has begun. You all will soon know what it means to achieve true darkness. Tell everyone, let them know that they will soon feel emancipation from those devils at the tower!" Thesis shouted to the crowd, which began to flee at varying speeds after the shock had left them. The purple winds would slowly tint the fog around Standasen, which while not having any noticeable effects on the natives there, it did however definitely catch the eyes of the press and news who would be reporting on the streets within the next couple of hours, getting the word out through the web or the radio, as the tower was currently out of commission, along with a couple reporters. Notes of the red-haired woman would also reach public knowledge. People were anxious, and this would definitely be a hard island to take action in a terrifying situation as this, as this is the island where prisoners go to be transferred, it is also being taken over slowly by a street gang; this was just another huge affair to add to the plate. The time was now. Her "person of interest" would have to wait. They would be drawn to this no matter what, and her presence would trigger their true nature anyway. But until then, the other worlds shall soon face their Corruption, along with those pitiful "Angels". Of course she still needed quite a considerable amount of time before the Father awakens, as the process had only really just begun when she last saw those kids from before; this was just the time where it has advanced well on it's way, giving her some influence. Her brother was a fool, and if he chose to stay out of this wonderful event, so be it. The Primordial could remain here and prepare for the coming of the World's Creator and the beginning of her advancement. It was only a matter of time before worlds would eventually fall, this was just the beginning...