~Shiina Kyoko Tsurinai - The Magus~
0 - The Fool
~none~
Alternate 0 - The Jester
~none~
I - The Magician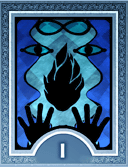 ~none~
Alternate I - The Magus
~Lou Siffer~

Rank 1 ~ //"Hm hm... hehehe. What an amusing character. What an amusing story as well. My predecessor, are you watching? I thank you for your sacrifice..."//

Rank 2 ~ //"I don't usually appreciate cryptic messages or foreboding assumptions. Something about this thing makes me want to tell it off for some reason or another, but I... also can't help but feel that I'll end up seeing it again. No matter the case, Rei's successor is my enemy, not it. Focus, Shiina..."//
II - The Priestess
~none~
III - The Empress
~none~
IV - The Emperor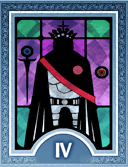 ~Albrecht Frost~

Rank 1 - //"Sir Albrecht is powerful, that much is for sure. His performance against the Demon Painter was surprising for a new addition to the Cadets, but I can't say I'm dissatisfied... I hope his attitude is just as reasonable as his skill, though."//
V - The Hierophant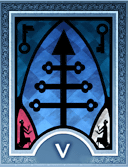 ~none~
VI - The Lovers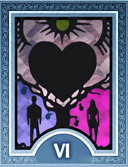 ~Cecilia Hunt~

Rank 1 - //"Such ambition... maybe that's what Cadets really need to last in this world. But will ambition alone be enough to let her pass? I wonder."//

Rank 2 - //"I wonder if she noticed my praises of her. The way she speaks about my power is... a little unnerving, but I want to make it clear that there are things the Wild Card isn't capable of doing. I wonder..."//
VII - The Chariot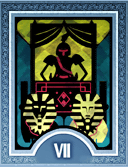 ~Maria Woodsworth~

Rank 1 ~ //"Maybe we should stay in touch after this, it was actually kinda fun to hang out with someone my own age for a while, hehe. Though, I hope she keeps the camera I gave her, I'd be really sad if she lost it or something..."//

Rank 2 ~ //"Vampirella...? I feel bad for Maria, if this kind of thing happened to me, I don't think I'd be able to hold myself back... Oh well, all's well that ends well, as they say."//

Rank 3 ~ //"Hmhmhm... to kill a God, huh? I can't say the idea of gaining enough power for that isn't tempting, but I'm surprised she could say it with a straight face. Just what kind of person are you, Maria?"//
VIII - The Justice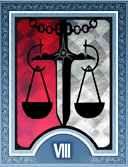 ~Lisa Lamecia~

Rank 1 ~ //"Hm hm hm... omoshiroi~ Consider my interest piqued, indeed. I haven't met someone who's made me think like that before, so this was a pleasant surprise. I wonder, if we both make it past the test, if we'll work together some day..."//
IX - The Hermit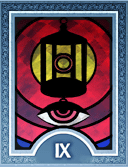 ~none~
X - The Fortune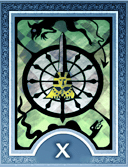 ~Jack Valentine~

Rank 1 ~ //"A very interesting person... but, nonetheless, his antics either bore me or aggrieve me. Perhaps that first point is enough to keep prodding further. After all, if there wasn't anything there, my curiosity wouldn't be piqued as it is."//
XI - The Strength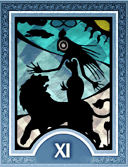 ~none~
Alternate XI - The Lust
~none~
XII - The Hanged Man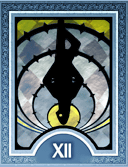 ~Vivian Oates~

Rank 1 - //"She was quite eccentric, but fun! Even if I don't really know how to react much towards her, the unexpected is what I expect every day."//



~Gionatan Giovanni~

Rank 1 - //"As expected, when he got to act he performed admirably. I'm a little sad that he didn't get to participate more in combat, however, his ability to stay calm even in the most extreme of situations would have been invaluable... but, even still, I can recognize that he wouldn't be able to excel with our current team."//
XII - The Death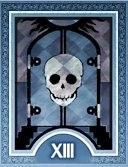 ~none~
XIV - The Temperance
~none~
XV - The Devil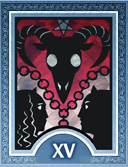 ~none~
XVI - The Tower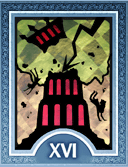 ~none~
XVII - The Star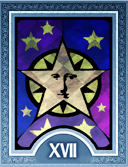 ~none~
XVIII - The Moon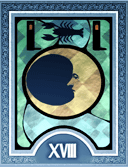 ~none~
XIX - The Sun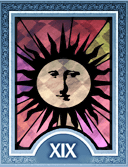 ~none~
XX - The Aeon
~Athena Griva~

Rank 1 - She was reasonable as a Cadet, that much I can say, but I think I find her skills as a person slightly lacking. She proved that she's effective in her position as a Class 2 Cadet, sure, but... well I can't say that much yet. It's too early to really see how she treats other people."//



~Azami Tsurinai~

Rank 1 - //"She doesn't seem disobedient, at least. Maybe if I ease her into the house she won't misbehave... though I really hope this isn't just a sick prank the Elder is playing on me."//

Rank 2 - //"Well... easy to say that it wasn't a prank. Even if she didn't get to act during a majority of our travels through the Demon Painter's Domain, her strength was still very oppressive. I can't say I'm unhappy about this gift, really."//
XX - Judgement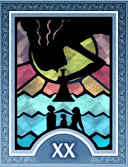 ~Soldiers of Order~
Rank 1 - After the failure that was Alice's mission, this is the correct way for me to redeem myself. It's obvious that us Cadets are more than organized and... surprisingly, we managed to move as one for most of the time. I'm pleased with my teammates. It was this kind of coordination that managed to defeat the Demon Painter.

And speaking of the Demon Painter, I wonder if the rehabilitation will work the same on him as it did with Sera..."//
~NPCs~
- Jakob -
Shiina's personal butler and throwing knife instructor. He's a man of German descent hailing from a family which has served the Tsurinais for generations and has been assigned to take care of Shiina ever since she was a toddler and he was a teenager. Though he isn't a Persona User, he retains general knowledge of the supernatural due to basic training from the Tsurinai family, simply because even their servants must be ready to protect their masters in the event that a supernatural threat arises. Nonetheless, his duties these days remain mostly as household chores, like cleaning, doing the dishes and cooking. Jakob often still trains with Shiina in regular martial arts, and of course with real throwing knives instead of her Soulbound Weapon, but without being able to use a Persona himself his aid is limited at most.
He also tends to gardening in his free time as a personal hobby. The flowers in the Tsurinai estate are all curated by him and bred to perfection, making him the ideal gardener.
- Laura Blackwell -
A physician employed by Class Zero as a member of the school's medical staff. Laura is officially a nurse in the list of school staff but her duties may range from simple nursing to more serious injuries that don't quite warrant a trip to the hospital. As a nurse, she's adept at her job and performs it to a satisfying degree, though her real utility to Class Zero is greater than just that...
As a
Forgotten Experiment
, Laura specializes not in combat but in healing injuries with the aid of her Demon Weapon. She's completely incapable of combat, naturally, but the extra four arms that manifest from her torso provide unparalleled dexterity for operating and curing patients. However, due to this she isn't counted in the ranks of the Cadets and serves only as their doctor for any injuries they may sustain over the course of a mission. She isn't made privy to any of their operations and is made to focus solely on her duty.
As a person, Laura isn't very approachable. Despite being a nurse her standoffish demeanor outside the nurse's office is likely to put off anyone who may need to consult her. While inside it she isn't much better, as she has a fascination for the human body and, well... any animal's body really. Medicine is her passion and getting a chance to experiment on living people, even on a small degree, is still thrilling to her; not abundantly, however. She can still contain herself and her excitement even when it's plainly overflowing. Knowing nothing of her past before becoming a Forgotten, though, Laura doesn't really care about making social connections with people. She says she lives solely for her job, and for all that we know, that's likely the complete truth.
- Kentaro Tsurinai -
Shiina's adoptive father, who married into the family for a partially political reason, though thankfully he and Hikari do share a bond of love. The son of a powerful Japanese politician, his bachelor name was Kentaro Arisato, though he took his wife's surname due to the Tsurinai Family being a far more powerful one than his own, and also because it'd guarantee his inclusion. In the five years since the Eternal Divide, he has made a name for himself as the bridge between the Japanese Government and the Tsurinai Group, working as a bureaucrat and politician associated with both. He officially works for the Tsurinai Group but is deeply entwined in the Japanese Government's business when it comes to the country's defense and security. He shares a reasonable friendship with the Minister of Defense and can be seen as his right-hand man at times.
Kentaro shows dedication in his job due to a need of supporting his family, seeing as his wife is incapable of having children and therefore being useful is a way of atoning for his family's unwitting failure. Nevertheless, he is a kind father to Shiina, even if strict at times since he hopes for her to be accepted into the core family just as he married into it.
- Hikari Tsurinai -
Shiina's adopted mother and Naito Tsurinai's aunt, sister to Setai Tsurinai. Despite not having the Potential, Hikari works as a traveling medic in employment by the Tsurinai Group, going around the country to heal injured officers and civilians alike. Her skills as a medic are impressive, as she has taken the time to get a full Doctorate degree in medical science during the past five years as well as a Bachelor's degree in Nursing simultaneously. She is in fact older than she appears, already being slightly past her forties, but her youthful appearance and determination see her likened to a modern-day Florence Nightingale.
Hikari is naturally kind to others and surprisingly mentally resilient, withstanding the berating of her siblings when she adopted Shiina due to her own impotence. She dotes on Shiina as if she was her birth daughter and is incredibly supportive of her lifestyle and decisions despite her instinctive motherly worry about her daughter becoming a Cadet. In her spare time, she teaches Shiina about basic first-aid techniques she uses out on the field in hopes that they will end up aiding her if hers or a teammate's life is ever in danger due to a treatable injury. Hikari was also the one most opposed to Shiina becoming a Cadet on her own without any other Tsurinai to help, but was convinced by her husband to relent and accept the elder's decision. This wasn't out of lack of confidence for her daughter's abilities, it was simply due to her being her daughter, nothing else.
- Naito Tsurinai -
Shiina's cousin, confidant and, in general, friend. An official officer of the Tsurinai Group, Naito has been wandering the world for a few years now and his current whereabouts and condition are unknown; in fact, it's unknown whether he's currently alive or not, but Shiina wholeheartedly believes that someone of his skill wouldn't die even in the harsh landscapes directly outside Endymion, where it's the most dangerous.
During her early childhood, Naito and his sisters were the only ones besides her parents that Shiina could relate to and call a true family. While they are cousins, Naito acts far more like a brother to her, being supportive and understanding despite having his harsh moments of discipline due to his advanced age over her. Before leaving to wander the world he had passed Shiina some of his knowledge on iaido, but this wasn't enough to train her completely and as such she hasn't focused on it since, though she still knows the basics. Just as well, before Shiina came to Endymion he would often personally spar with her as there were many who refused to do so.
Though he is a complicated man and a fairly ruthless person, Naito's actions are at their core a demonstration of dedication to the Tsurinai Group and are done in the family's own justice, a mentality he has since passed to Shiina. His father, Setai, is the current head of the family and is supervising the Wild Card's progress in Endymion; Naito offered his support to Shiina before leaving, a gesture that gave her the confidence to apply as a Cadet.
- Setai Tsurinai -
The current head of the Tsurinai Family, as well as Naito's father. Shiina has only met the man in person once, when granted permission to become a Cadet in Endymion. He currently does not accept Shiina as a true member of the Tsurinai Family due to her being adopted, but has issued her a condition for her to be integrated as a definite member: she must rise in the ranks and become a Royal Guard if she wishes to be a true officer of the Tsurinai Group. To this end, he has graciously given her two retainers: a promising Servant of the family with the Potential and the most impressive guard dog they possess. Aside from these two, no other personnel is allowed to assist Shiina's duties in Endymion, be they of pure Tsurinai blood or simply a Servant of the family.
In person, he is a calculating but patient man with an intimidating aura about him. Shiina can't read his feelings despite being so adept at doing just that, which makes him a terrifying presence she can only stand being face to face with for so long. That said, he is also an extremely intelligent man, taking over the Tsurinai Group after his father passed away and running it just as well if not better as seen in its continued success and growth. Setai's authority within the family is absolute, and decisions he takes cannot be overridden by any other Tsurinai no matter their rank. Though, a rumor within the family is that he has a soft spot for his daughter Mikiana, as he dyed both his hair and beard when her disease was discovered. This fact actually makes him look distinctly older than he really is... although he's still likely well into his fifties as he is the eldest child of his generation.
- The Tsurinai Group -
"太陽のように、我々は上昇する"
"Like the Sun, we will rise."
Self-explanatory. The Tsurinai Group is the organization created and comprised of the Tsurinai Family as a whole and its Servants, it's a sort of independent division created to deal with supernatural threats with its goal being the protection of mankind and assurance of the superiority of the family. Its modus operandi is simple and concise: protect civilians and eliminate supernatural threats and risks like Demons and dangerous Persona Users. They have large political power in Japan though they don't dominate the country as a whole, but can nonetheless be said to serve as a makeshift supernatural police much in the likeness of the Cadets, just far more exclusive and far smaller as well.
Shiina has been sent by the Head of the family and simultaneously leader of the Tsurinai Group, Setai Tsurinai, to serve as a link of trust between the City of Endymion and the Group as a whole. Though she is not an officer yet, she has been granted to Class Zero as a Cadet on behalf of the Tsurinai Family, to form a basis of trust and cooperation between the Queen and the Group.
The group follows strict rules in regards to their protection and is extremely territorial, defending their own protected area exclusively without allowing other organizations with supernatural defenses to interfere; though there aren't that many to begin with. They have garnered support, both monetary and in general, from the populace they defend, which has helped the Group grow to the large size it holds today.
The operatives are usually from the family itself, highly skilled and trained as both Persona Users and Demon Summoners depending on their innate potential, though due to the territorial nature of the Group they are rarely allowed to interfere in affairs of others if at all. The family has a few lineages of servants working under them, mostly as expendable soldiers and Demon Summoners that serve as underlings to a single Tsurinai-blooded captain who is likely a Persona User or at the very least a particularly skilled Demon Summoner themselves. The rare Servants who awaken to the Potential serve as elite assassins and special operations units that are willing to lay down their lives to defend their masters if need be. The most skilled of the Servants work as personal guards for the core family, with Setai himself employing two personal retainers that are able to summon their own powerful Personae.