The next time everyone slept, a voice would call in their heads, and they would open their eyes to see themselves outside the tower of San Malarus. Well, everyone but one man could see this vision. A peculiar Red Robin would not be able to see this tower or be in this realm when they slept. Was this a dream or something else? In the courtyard stood the tower, though enveloped by such a light it was hard to discern what it actually looked like, but in the middle of it all, stood a single person, androgynous in appearance, and staring at the face of whoever may be watching.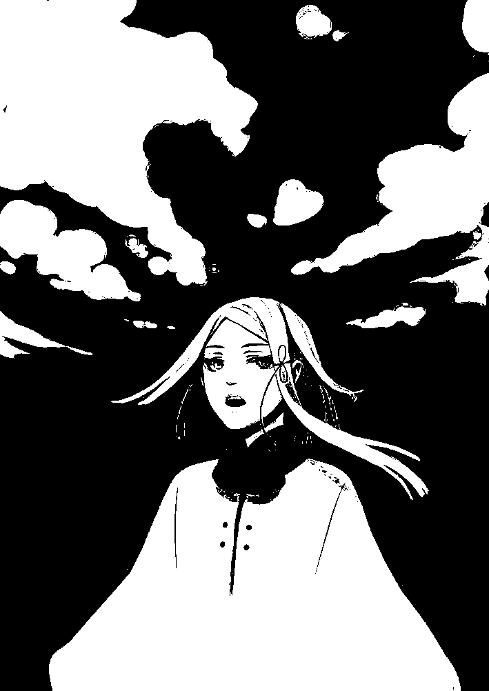 "This is mostly the first time we have met. Hello, my name is Gonea; though it is not my true name, it is what I choose to go by while in your presence. I have been responsible for many of the things going on this Event. I ordered the Angels to go into the other worlds, and open up the portals for you to follow through to investigate. Meanwhile, I also kept watch over a certain individual, but they have been long exempt from your Event. I have wondered what you all would decide upon to advance Humanity with the corresponding Wish. However, it seems that you all have chosen instead to reject this Event. For the minority that wish to fight for this Event, I can understand your distress, but I must act in the name of the majority. The time for deliberation in the Event is over, so I must end it."
Gonea frowned at the ground, as though lost in thought before turning to look at the tower. It was an odd thing to do, but the time has long gone, and no one came with a true answer.
"When you all would find the Angels, this would be where we would meet, however everything must change. I now have returned your isolation from the other worlds to you, but there is one last matter to be settled. Do you all wish for a new world, or your emancipation? If you truly have a change of heart and want your Wish made known, you may show up at the entrance to the tower with a respective team, and I will challenge you. If a Wish cannot be agreed on, and you no longer wish for my presence, show up there anyway, and I will challenge you inside the tower. I will not leave until you prove you are worthy of being let go. You have yet to convince me how decisive Humanity truly is. If no one makes a decision, I shall return, and one day, I will make this Event again."
Gonea held their hand out to the ones in the dream, and in an instant, everyone that was aligned with an Angel could feel their powers being sapped away immediately. They would not lose their newfound Personas or Supernatural Others, but their natural powers that the Angels supplied them would be gone, and they would return as normal humans. Everyone else could merely see a glimmer of sadness in their eyes, like someone just found out they were well and truly rejected.
"This is to show you I am every bit as good as my word. If you wish for emancipation, you shall have it, however, you will no longer feel the boons that you once felt."
Gonea walked a few spaces closer to their faces as they slept, of course they were unable to do anything as they were just a mere mass of nothing with no form.
"I do this out of Love for you all. It may not be clear, but it is what I feel. I believe in you, for even without my powers, you still have everything you need to face the true threat of your world. I understand if you now despise me; I deserve it after all. Understand that you cannot lose hope even now. I have not abandoned you; merely moved to the whims of your hearts. With that being said, I pray you good luck."
Afterwards, she turned away, and began to walk towards the tower entrance, and everyone could feel themselves moving slowly towards them, as though running to catch up. However, Gonea would walk through the door, and a bright light would shine and prevent them from following. In such a short moment, everyone understood that this person's feelings were genuine. Still, did that give them the right to do what they did? Thrusting them into such a battle that stressed and harmed so many? Were they right, or were they still deserving of the Final Death? Everyone but the Red Robin saw this, and they would wake up, perhaps not feeling the same, but some part of their heart must have understood, as their eyes would all be wet. Their connection to the Human race was much more powerful than they realized. Naturally it would be, since they were the creator.
The One that Gave Humanity Life....