Social Qualities-Expres​sion(Charisma/Deception)-
Tricking people and generally seeming approachable. Not Ritsuko's strong suit.
Rank 1 - (0/14 pts) - Plain (grows at half speed)
-Understanding (Hot-Wiring/Pick-Pocketing/Lock-picking)-
Empathizing and knowing how the world works. Surprisingly, she's pretty damn adept.
Rank 2 - (16/39 pts) - Oddly (grows twice as fast)
-Intelligence (Hacking/Creating/Dismantling Robotic instruments)-
Technological nerd-linger stuff. Also books and maths.
Rank 1 (0/19 pts) - Slacker
-Courage-
Just what is it you're afraid of...?
Rank 1 - (0/14 pts) - Timid
-----------------------------------------------------------------------
Possible Social Links in Progress
Brittany Wilson - Sun
Who are we kidding?
Aono Touko - Hanged Man Rank 2
Selenus - Moon
Hatsuhara Yoshima - Tower
PLAYER HAS LEFT SITE
8D - Hermit
Zave Bryce - Fool Rank 2
Gabe Gatsby - Magician
Red Rhythm - Strength
-----------------------------------------------------------------------
Established Social Links
The Fool
Zavie Bryce
Rank 1
-
He's such a great little kid. I wish I'd been a kid like that...
The Magus
Liberty Kemp
Rank 1
-
She seemed okay at first... b-but... d-does she know I'm a liar...!?
The Emperor
Batilde Gagnon
Rank 1
-
I-I didn't mean anything to happen like that...! I hate everyone, why does this always happen...?!
Rank 2 (Ally Guard Benefit Unlocked!)
-
Poor little rich girl, too self-absorbed to see her own problems for what they really are. Pffft, I don't need anyone to worry about me, I can handle myself.
The Chariot
Lance Lane
Rank 1
-
*haaa...* ...I know I don't like to talk to people, and that I shouldn't need to, but... it's get to get it out of my system sometimes.
The Wheel of Fortune
The Wandering Parlor Ghost
Rank 1
-
Damnit... What did I get myself into...? I gotta stop making promises I don't wanna keep.
The Hanged Man
Nebula Erlang
Rank 1
-
Pfff, fine. She's good at drawing. So what? It's not like she can relate.
Rank 2 (Ally Guard Benefit Unlocked!)
-
*sniff* I don't wanna care. It sucks, I don't want to...
Aono Touko
Rank 1
-
There's something not right about her... something very wrong...
The Moon
Imari Hikaru
Rank 1
-
Damn kids! I hate them, I fuckin' HATE kids!
The Moon
Callie Ukai
Rank 1
-
I kinda feel sorry for her, she doesn't have an education. And I'll be fuckin' damned if I'm just gonna allow that to happen.
NPCs
Kano Koshiro - Strength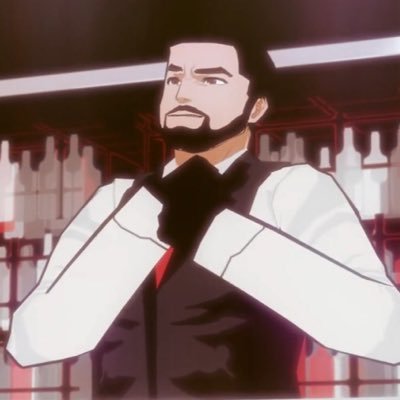 A bartender and businessman, Kano owns
The Red Salamander
, an infamous dive in the bowels of Little Tokyo. While large and imposing, he's incredibly understanding and sympathetic, lending a sympathetic ear to his patrons and showing kindness to whoever he thinks needs it the most. Certain people tend to take advantage of this, as he's kind of a doormat, but when his limit is reached Kano doesn't put up with bullshit and displays just the kind of angry beast no one wants to cross. Ritsuko delights in getting on his nerves. Rumor has it that he's connected to the mob, although he's long left that life behind.
Kyle Young - Sun
The lead singer and de-facto leader of a band named
Lion's Heart
, well known for their upbeat sound and wide range. Kyle is as upbeat and optimistic as they come, not having a bad word to say about anyone and making friends easily with his natural chipper attitude. He's naive, however, and while he can see the best in people he has a hard time noticing the bad. Ritsuko acts as a filler for the band's guitarist and bassist on occasion.