He let Tomomi cry into him as he needed, careful to be aware of his friend's mental state.
There was probably a joke about only just having dried off, but it didn't feel like the moment for it. Somehow, he felt Tomomi might just take the comment seriously if he said it just then anyway.
It was worming through his brain. Each and every passing moment, the little things that told more than he'd heard.
The situation was awkward and confusing, and it wasn't going to come to a stop any time soon. He didn't know what to do from here.
But he'd do something. He wouldn't just avoid it completely.
He'd make sure Tomomi wouldn't regret confiding in him.
"Hey, hey...no need to thank me." As Tomomi pulled away, Cecil's arm unwound from around him, one hand resting on his shoulder.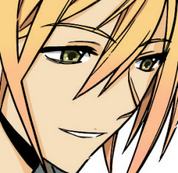 "I'm...not going to freak out or hate you because you have a crush on me, you know?" He looks up into the corners of his eyes, and lets out a quiet, wistful laugh. "I mean...ok, I did kind of freak out the first time. Sort of mentally imploded in on myself. That was more me thinking it wasn't humanly possible, though."
He shakes his head, sighing. "That's neither here or there though. We're friends, Tomomi. And it's going to take a little more than
that
to do anything about it."