For every end there is a beginning

The infinite cycle of life and death is tried and true, a guarantee that this too shall come to pass

For every end there is a beginning

A chance to start anew and fresh, limitless opportunities, brand new experiences free from the shackles of the past that preceded it

For every end there is a beginning

The pain and blight that came before disappears with time as all things do, fading into dust we forget these traumas and leave them to rot where they are

But to make a new beginning
Ș̫̥̝͎̜o̲̺m̲̦͚̙̖̗̗e̯͕ț̹̹͍͎h̗͉̞͙̙̫i̫̜̝͖͓̟͕n͉̲̥̝g̺̗̳̫̳̲ ̪̻h̙̭͖̞̝a͇̺͉s ͖͇̟̦̻t͖̤̟o̫̮̙͇̮̟ ̲͙͖e͔n̮͍̪̪̱̪͈d̹͉ͅ
The world is ending soon.
What are you going to do about it?
Apocalypse Now (and Forever)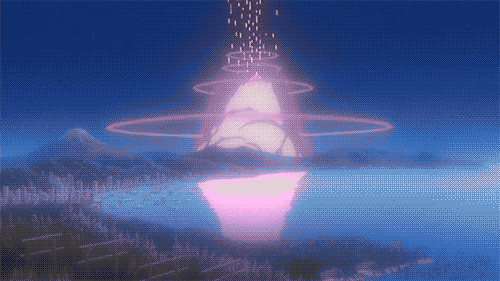 There isn't much that
can
be done about the end of the world. Or IS there? The eruption of Mont Santa Fantasma brought reality as we know it to a halt and eradicated all existence along with it. But in Neuvo Vitae nothing is permanent, not even the end. It is two weeks before that final day but at the same time...
...after it. Because it already happened once, but no one seems to remember.
No one but those with The Potential can recall this horrible future but when the eruption happened something strange came along with it. The monsters and tears in the fabric of reality that happened along with the cataclysm were unheard of long before that fateful day and the past isn't how you remember it. This reality is ripping at the seems with Distortion Bleed, giving rise to Shadows and The Potential and transmogrifying city blocks and even individuals into warped and monstrous versions of what once was and what may infinitely be. People have mobilized to stop it, the brightest minds in the scientific community, the mammoth might of the military, even the occult but none of them can make a difference. Because this isn't the first time THIS has happened either.
Over and over the world keeps ending. Over and over you start again, getting a little worse each and every time. Something has to give.
_________________
This plot is a current-apocalyptic plot in contrast to Endymion's dystopian post-apocalyptic plot and blends the slice of life homeliness from before things go awry with the panic and desperation of people facing their ultimate fate and the groups that seek to stop it, all mixed up in a slurry of broken time and reality-breaking goodness. Neuvo Vitae borrows heavily from Devil Survivor and Persona Q as inspiration and will be more focused on how players influence a situation and the choices they make than previous plots.
Enjoy It While You Still Can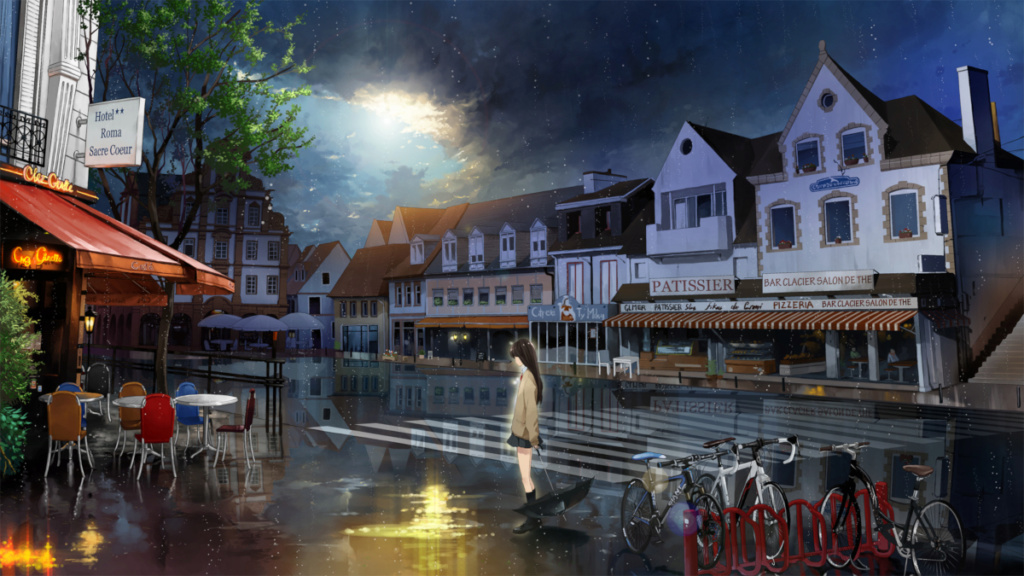 The eve of the Festa Fortuna, the festival of good fortune on the summer solstice, is where it all begins and the first you can remember of however many times. Over and over the citizens celebrate and usher in luck and good tidings for the heat of summer is over and the harvest season will be beginning, unbeknownst to them it will never come. Or at least most of them. Some of them know what is to come.
Those with the Potential can recall what has happened and preserve perfect recall of any way the timeline changes ever since they Awakened. This connection to the Collective Unconscious shares the true events of all realities as they skip back and forth and end in the cataclysm, only to repeat. Many of them are just as confused as you are, some more so being newer than you are. Some have been surviving this for much
much
longer,
how
long is anyone's guess. When the world resets again everyone without the Potential forgets, even the dead come into the world again no matter their fate.
But you're different, you don't follow the same rules as you actively defy Fate. It's your choice what you do with this. You can live out what's remaining of your life with style and substance, sipping tropical drinks by Spiaggia di Cristallo as the world burns around you. You can join the carnage and revel in a world without consequences. Or you can try to get to the bottom of the disaster lest you live another one... or perhaps speed it along. If you are so inclined.
Even Death Can't Save You

The situation in Neuvo Vitae is deadlier than ever with many more direct threats and disaster events that those with The Potential will face. The cataclysm won't hold back and can't be reasoned with. Monstrous or murderous enemies no longer care if you're KO'd when choosing single-target attacks and can target KO'd players, killing them if the attacks connect. There is no longer a bail-out option in VC aside from patrols and if you are killed is purely up to the context of the situation. It stands to reason that if you would die in a situation, you're dead. But death is no longer the end.
NEW MECHANIC!: Embodiments of Fate
When a player dies they will remain dead for the rest of the thread but at the end they will face an Embodiment of Fate in the continuum between Life and Death. Embodiments of Fate are eldritch manifestations of Destiny that enforce the natural law that what ends ends and what continues continues. They exist to ensure your death means you stay dead. But like all things in this world you don't need to face it alone. Players with a Social Link Rank of 5 or higher can join a dead player if Facing their Fate, even while occupied in another combat scenario.
But there's a catch. If you are killed by an Embodiment of Fate you stay dead. Permanently. At first, as you've defied Fate this far, the Embodiment of Fate you face will be weak. But as you continue to cheat Death it will find a way to catch up to you...
Make a Difference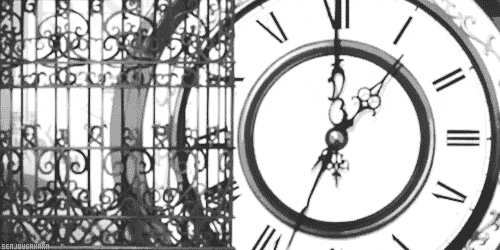 So the world is going to Hell in a hand basket. Distortion Bleed rears its ugly head in every clime and place, bringing with it a taint of the natural land around it as the timelines merge and summoning abominations in what's known as a Distortion Event. Distortion Bleed occurs when something very important happens in the timeline, current or not, or the timeline is altered and creates these so-called Distortion Events. During these events player choices and intervention will impact the timeline and alter Fate in meaningful ways, and it is only during Distortion Bleed where players will be able to fully access their Potential. Doing so creates a Dimensional Echo, which is Fate resolving itself to work in the same way next time. That event will play out as if you made your choice whether you were there or not during the next time loop. Certain Dimensional Echoes may be revisited to make a different choice with new information or resources or abilities and further alter the timeline.
But every time time loop is different. Fate is determined to resolve itself.
NEW MECHANIC!: Decision Points
Plot progression relies more on RP and saying or doing the right things in the right situations and Quick Action Sequences will be less prevalent for what a player chooses to do but will be augmented by a new mechanic. Whenever an area suffering from Distortion Bleed has a divergent result in the timeline the players will be able to sense it and a Decision Point will occur. This decision will change how the game progresses into the next time cycle so choose carefully, but as above some choices will be able to be revisited.
When you Awaken to your Potential you will unlock your memories of the cataclysm and play out your role in the final fight the last time it happened. This will be your canonical first experience with Distortion Bleed no matter your class and you may be exposed to other players or NPCs during your memory who may be familiar with you later on. Even if you never were before. The Collective Unconscious further obfuscates the timeline, and you were both always and never there for The End. Evokers are not needed to summon a Persona in this plot during Distortion Bleed.
It's Not What You Know But Who You Know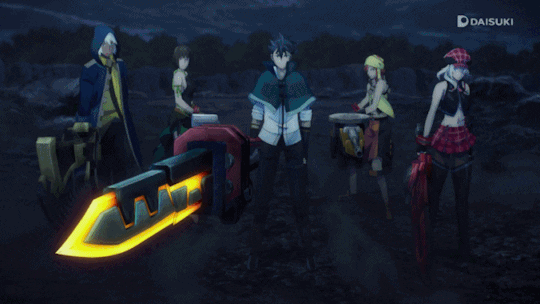 Of course no on is going to sit idly by and let the world end. Everyone is invested in perhaps the same thing you are, and there are many entities that will aid or hinder you in you goal. The Social Quality system will not be continuing into Neuvo Vitae. It will instead be replaced by Favor and Ire.
NEW MECHANIC!: Favor and Ire
The Favor and Ire system is tied to the many factions that influence their will in Neuvo Vitae. You don't need to align with them or you can align with several but certain people may find out about your exploits if they're public enough and it will influence their opinion of you. Factions are not exclusive (with some exceptions) and you can further many goals at once in the name of several but certain decisions or missions will color a faction's opinions of you. A high enough level of Favor will give a player access to special privileges, shops, or favors from the faction they have impressed while a level of Ire may lead into making a new enemy. But even Ire can be useful. Someone invested in your destruction is invested in responding to what you do, for better or worse.
Prepare For the Worst

Given the time loop you may have an opportunity or several to make sure you're in top shape for what is about to come. If you're aware of a hard choice that will need to be made the second time around you will be better able to gain the skills you need to make that work in your favor. There are many ways to pass the time in Neuvo Vitae, all in your benefit. Time of Day mechanics are gone, you are instead limited by what you can do before the next plot interaction. What this means is instead of planning out your Day slots and trying to cram everything in that you want you can now do... well, just about whatever you want within reason and with a few limits. Days are only measured in what happens during that specific Day according to the timeline. Work Threads will no longer exist either. Instead of writing Work Threads you will need to undertake missions and tasks or find your own VC by investigating or engaging in combat.
Distortion Events/Dimensional Echoes
The events that impact time and are corrupting the world, you can spend time dealing with any Distortion Event or Dimensional Echo that occurs on that specific day. These will only be available on specific Days and you must act immediately or they can be passed up, most of these are plot events or unlocked missions.
With the exception of socializing with NPCs, you cannot be doing anything else and engaging in these events.
UPDATED ACTIVITY!: Gardening & Cooking
Gardening makes a return in Neuvo Vitae! With the lush temperate climate and with the love of food it's known for gardening is a popular hobby in Neuvo Vitae from the spiciest taste bud-searing peppers to cilantro for that
je ne sais quoi
and even things like bonzai gardens. Capo Ristorante is always up for trying new things and will take whatever you offer them and combine them into a dish more powerful than any raw fruits and vegetables could offer. The possibilities will be far greater this time around, so make sure you flex that Green Thumb!
Patrolling
Patrolling functions much like Dungeon Dashes in that a team of combatants will run through a sector of enemies where Distortion Bleed is present. Patrolling is a little different than current Dungeon Dashes in that enemies scale with how many are defeated and how much time has passed instead of collecting items, and certain factions may have Patrol requests that people can fulfill for additional rewards! Once you unlock your Potential there is no limit to how long you can patrol for (as long as you can survive it).
UPDATED ACTIVITY! - Investigation
With everything going on you're going to want to check out what's going on behind the scenes. Investigation is just like it sounds: going to one of the locales in Neuvo Vitae with a goal in mind and seeing what's what. It's a catch-all for the Investigations of previous plots and depending on what you choose to look at and when you may find something different each time.
You could uncover hidden information or Distortion Events and Dimensional Echoes, find money or items, come across an NPC, receive a new mission to complete, or any number of things. Whatever happens will depend on where, when, and what you're doing so it pays to stay tuned to what's going on in the world. Unlike Investigations from Endymion you will always find something to help you out when you Investigate Neuvo Vitae, no matter what spot you pick a random encounter will trigger that can earn you rewards, becoming better the more well-informed you are. You cannot Check something Out while currently involved in a Patrol, and only once per Day.
NEW ACTIVITY! - Training
You will need to prepare and prepare well considering you know what's going to happen each and every time. It would be wise to spend that time learning new skills or improving on ones you already have. Players can spend their Days Training in order to gain Floating Strengths in tangible skills that can be learned over a certain amount of time. A player will pitch a skill they went to learn before they begin Training as a Floating Strength and staff will assign a number of Days it will take to learn it. They can then spend their Days Training that skill and, when they have Trained enough over the course of those Days, earn that Floating Strength. How much time it takes to earn a Floating Strength will depend on the complexity of the skill, the versatility of the skill, and if it has mechanical effects attached. Training skills can't be done indefinitely, only once per Day.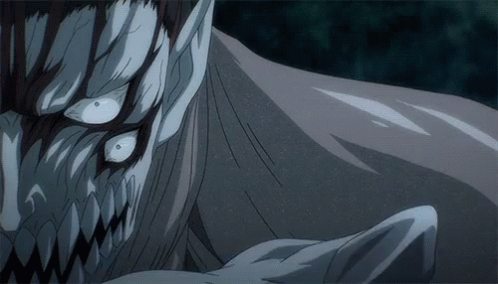 Fight For Your Life or Prepare to Lose It

As with all things in Neuvo Vitae the approach to combat has also changed. More unique skills will be available to you as some are removed entirely, but a bevy of new elements awaits and for the patient (and fortunate) anything becomes possible. You'll need it to defeat Fate itself.
NEW MECHANIC!: Figments
As time unravels itself it leaves shreds behind, pieces and mementos of long forgotten timelines that have never existed or no longer exist. And, just as yourself, anything that defies Fate holds in itself a twisted power and connection to the world beyond time. Figments are artifacts that somehow escaped the reset of time and the cataclysm altogether, they are objects that are not supposed to exist by the laws of Fate. These Figments carry with them twisted memories and mysterious powers from an unknown origin, and they hold with them infinite potential.
Each Figment you come across will have associations with it, connections to its origin. These objects will function as Forgotten weapons to an extent, containing a certain amount of skills but also their own Strengths, Weaknesses, Arcana Boost, and perhaps some other abilities as well as their own skills. However, most Figments will be mostly empty. Using materials of a specific type you can forge them to your Figment and create a skill it can use as a result, but that is not all: skills on Figments can be upgraded with materials to more powerful skills, Figments can be fused together to combine their skills and change their affinities and bonuses and shape, and skills can be combined together on the same Figment to create an entirely new skill. Most specifically this can be done with elements to make all new Mutated elements from them with their own properties and therein lies the possibilities.
A Fire skill combined or upgraded with an Ice skill or materials will yield a Water skill, but a Fire and Water skill will create a never-before seen element of Smoke. And what will Smoke and Lightning create? As long as you have the skills and materials to use you can continue to combine old elements into new ones and new elements into even newer ones. Certain combinations may even lead to powerful custom skills.
UPDATED MECHANIC!: Mutated Elements
Originally their own upgraded element Mutated elements will undergo a large change in Neuvo Vitae. They are no longer an evolution of a current element, all Mutated elements will be a combination between two or more elements. They will also lose their ability to pierce Strong resistances at a greater rate but instead will attack with two elements at once. When using Mutated elements the affinities of an enemy will balance out and make the attack more or less successful depending on the enemy's weaknesses and resistances. If you attacked an enemy with a Water skill, a mix between Fire and Ice, and it was Weak to Ice or Fire it will be Weak to Water. But if it is Strong to Fire and Weak to Ice the attack will hit for damage normally, or Strong to Fire and Neutral to Ice Water will be resisted. Got that? Because Mutated elements can now be made from other Mutated elements this can spread across the entire base elemental spectrum if one is dedicated enough.