Non Player Characters NEW
General NPCs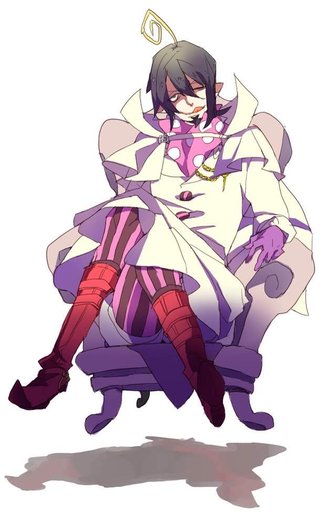 Lord Flauros
Wheel of Forune
Lord Flauros is not a ruler, per se, but when the unsuspecting city was upturned by shadows and no one had any idea what to do, it was Flauros who first exhibited the power of the Potential, over the years he has taken a back seat to instead oversee the Devil Diver's Union. In fact, no one is really sure what his powers are. No one has seen them since the invention of the M2D, and he enjoys his secrecy. Rumors abound about his powers over the elements, or his ability to summon all manner of monstrous creatures. His true power remains as enigmatic as his strange hobbies.

Despite his eccentric manner and honestly questionable repertoire, the Lord Flauros has become the undisputed authority when it comes to persona users, the crux games, and devil diving.

Flauros enjoys things that interest him, and if you are not interesting, he will likely act as if you do not exist. You must have a high enough reputation to pique his interest... Unless he just randomly decides you're worth of an SL.


No one knows how to reach the Font of Glory other than those who are chosen to reach it's narrow halls. Somewhere in the lowest levels of the city, near the gates to the Shadowlands, is the golden fountain which can bestow power or ruin to those who enter. And it's master is the mysterious Gremora. Her horns and glowing silver eyes denote her as not human, and the unnerving gas mask she wears never leaves her face.

Gremora is just as much a mystery as Flauros is, although less is known about her. There are whispers, heard by few and believed by less, that Flauros had a partner, maybe even a lover, when the world was ending. But stories warp over time. Their forms shift and take on new meaning, and Gremora's origins are too mysterious to guess at.

She has little mind to pay the unawakened, but may be persuaded to share words with the initiated. Those who she has gifted with power are always welcome to seek her out for conversation, however trite or brief it may be.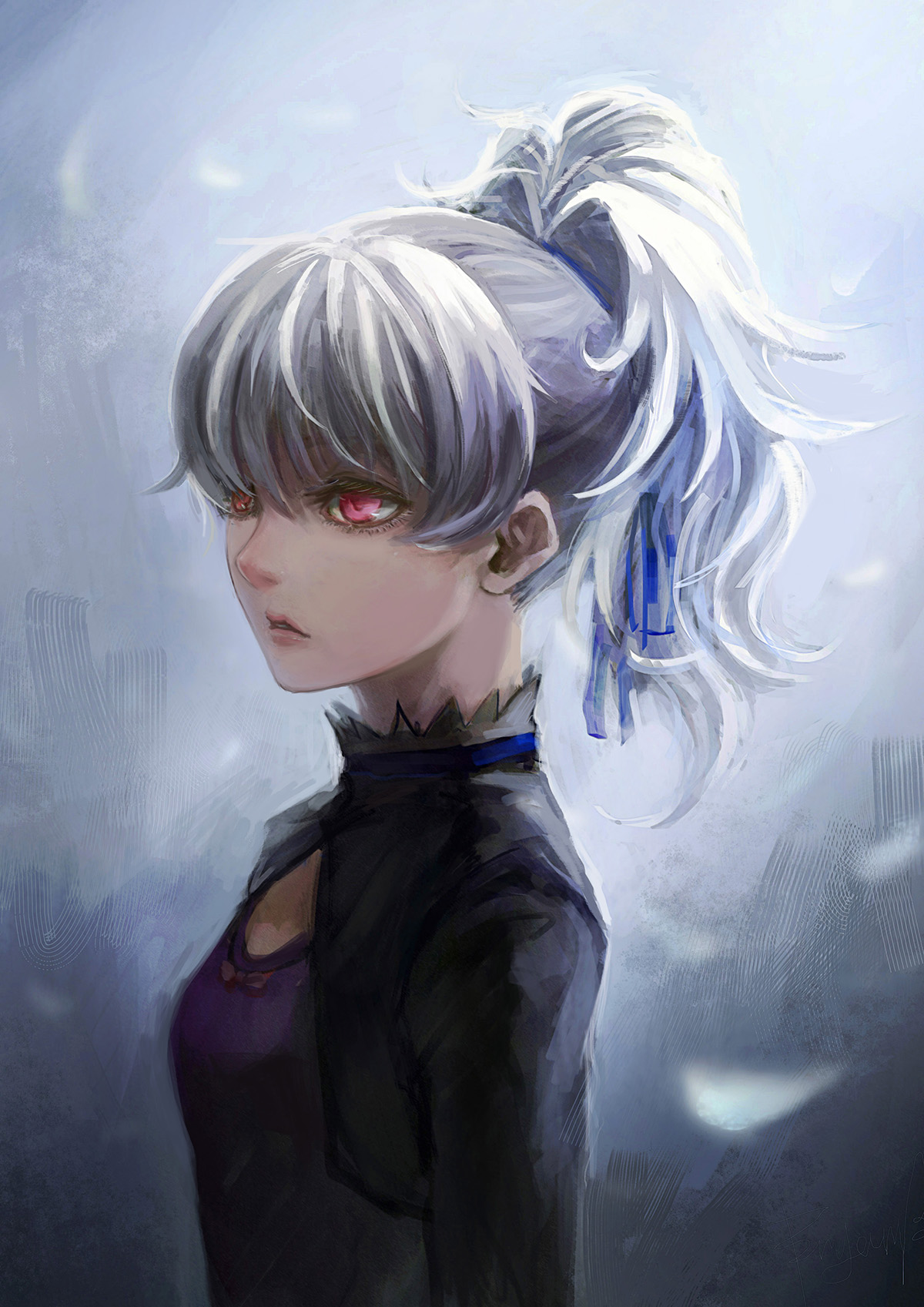 Lycoris is a small, quiet attendant who watches over the Velvet Isles, the shops and facilities that the Velvet Room offers to those with the potential, artificial or otherwise. It is not the true Velvet Room, which is only available to those who have made the contract, but it is an extension of the same space, one created by Lycoris herself, at her master's bidding.

Lycoris is a Velvet Attendant, and through the many years she has not seemed to age at all in correspondence with the passage of time. It may be because she spends all over her time in a place that exists between dream and reality; mind and matter.

Lycoris rarely leaves the Velvet Isles, but when she does, she often does so in search of more cards. For if there is anything that Lycoris treasures, it is the Crux VS. trading card game.

With a bit of flashy Showmanship, you may just be able to convince her to spend time outside the Velvet Isles. She has also been known to grow rapport with accomplished VS players.



Compass Rose
The Hanged Man
Her real name is Rosette, but her stage name is Compass Rose. She is an accomplished diver both in the leaderboards and in Crux, earning herself the title of Free Lance at a surprisingly young age. Rosette is a bit of a work-a-holic, promising much of her time to different teams in search of her expertise in the arena of navigation and tactical support. It is said that she is capable of communicating with her team over any distance through the depths of the underrealm, and is highly sought after for her talents.

Despite her high acclaim, if you meet her personally, Rosette will seem plain, even reserved. She doesn't have much of a social life, and even during her time participating in Crux games she was never very flashy. She was brought up through the Dauntless guild, but has left the stigma behind, content to lend her skills to any Devil Diver in need. There is some talk of her having a trouble past in regards to her time in Dauntless, but few know the full story, and she doesn't seem forthright with information on the topic.

No particular SQ ranks are required to form an SL with Rosette.


Not all Devil Divers belong to the guilds. Some find their own ways to obtain licenses and keep their freedom. Their lives are not as glamorous as those of the guild Divers, but their grittier, more honest outlooks still somehow draw people to them. Most unaligned teams pittle out and die after a little while, but Sparrow's Edge, and it's fearless leader Olivia Lattice (daughter of the owner and CEO of Lattice Corp) have managed to stay afloat in the cut-throat world that the guilds ignore.

Olivia is competitive, fierce, and loyal. She is a mechanical genius and notorious tinkerer, building drones in her free time. It is known that she offers drone services to her team at a reduced rate, simply because she enjoy's the work.

Oddly enough, Olivia does not have the potential, and does not believe in Placebo, instead relying entirely on her own personal drone, Perfect Sparrow which is modeled after herself.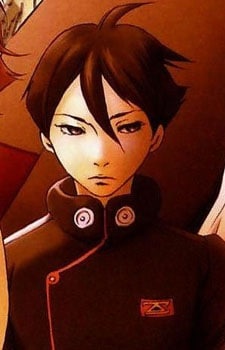 Kaine Highwinde
Temperance
Kaine is a dutiful officer of the law, just like his father was before him. He takes his job very seriously, but he also has a kind and understanding side. Those who know him know that he is a patient and understanding individual, and while he is a man of few words, he often happens to have the right ones when they are necessary.

Though you wouldn't know it by talking to him, Kaine is a young officer who is fresh to the force, but his upbringing and his natural even temperament would never lead you to believe this. He does not harbor unhealthy ambition or rush recklessly at danger like other officers might. He fully expects to live the rest of his days doing this, why rush ahead, when you're right where you need to be?

Kaine has a shrewd, keen mind, but doesn't begrudge anyone a conversation. You don't need any SQs to SL with Kaine.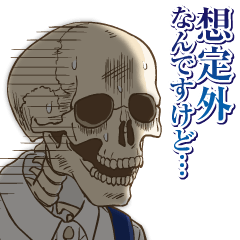 Frank is a tortured soul. Ever since his other self willingly gave himself over to him, the Shadow Self has lived in persecution. All he wants - his only desire in life - is to live a quiet, content existence selling his potions and tinctures. He runs a drug store, and often finds himself the victim of scorn from customers of all ages and creeds, because of his appearance. Indeed, it is a tragic life this poor soul leads.

Still, Frank is not without friends, despite his looks. He can be quite a friendly guy, and a helpful physician - though his skills in this area are limited. He mostly assists Divers by selling them provisions to keep up their health and strength while they do their dangerous work. Anyone who has spent any time will tell you, "Thank Franks a good guy, just takes a bit of getting used to."

Because of his slightly frightening appearance, it takes Guts to hold a conversation with Frank without being freaked out by his skeletal visage. Don't worry...he doesn't bite. Or eat brains, which he has been accused of once or twice if you'll believe it!


Lucian "Luke" Ramporte
Magus
Luke, also know as Mr. Reaper by some of his students, is a teacher and Devil Diver in the Dauntless guild. He teaches classes mostly, does a few PR events, and it is rumored he has his hands in a few different things both in his own guild, and inside the Guild, and the Devil Diver's Union. He is one of the oldest and most well known Devil Divers of the Guild, practically giving the Guild it's less than savory reputation for clever tactics bordering on the underhanded in the realm of Crux games.

Mr. Reaper is known is a hard teacher, with a gaze that can bore into your very soul. His students respect him fiercely, though there are few that would truly call him a mentor. He can be sly, coy, or crass depending on the situation, but most who know him will agree they themselves know very little about him or his personal life.

For as much as he is an Enigma, he is not hard to find, and can be found around the campus and in his office quite often, Though most tend to steer clear of him - which is exactly how he likes it. Finding a situation in which Luke will take you seriously as anything more than a student takes Strategy.


Lucas is one the junior members of the Lion Heart guild, one of the youngest Devil Divers at the tender age of 15. Despite his small stature and unimposing physique, his Persona, Galahad, provides him with a devastating amount of physical power. Lucas is hard-working, determined, and kind-hearted, always working towards his goals, but often stopping to help achieve the goals of others along the way. He believes, just like his older brother, Finn did, that the only way a devil diver survives is with a strong team.

Lucas's older brother is a source of great pride and also great sorrow for the boy. Finn Reading was the known Wild Card, and a strong Devil Diver and Crux player. Lucas looked up to him immensely. Finn disappeared two years ago on an important, but secretive mission undertaken by members of many different guilds. He, along with most of the other divers that were sent, did not return.

The incident still doesn't sit right with Lucas, and he can sometimes be seen pestering Rosette for answers regarding the mission. She was the only Diver to return alive from the mission, after all.

No SQ levels are required to SL with Lucas.


Caleb is a self-proclaimed master of Crux Versus. His look, his attitude, his interests, are all bent towards this role he has for himself. And it's not without warrant. Caleb has won the Crux Versus championship every year for the past three years.

Despite how much he would like to lead people to believe his is only a master of Versus, he is also a student, and an only child of a single mother. His winnings often are spent on pragmatic things, to help support his mother in the best way he knows how. He works hard to understand the game's Meta, and to get the best cards as quickly as he can to stay on top - without cheating of course.

Caleb is honest, motivated, and strong-willed. A loyal friend if you can get past his annoyingly one-track mind. He'll SL anyone who has beat him in a game of Crux Versus, or anyone who has won 6 matches.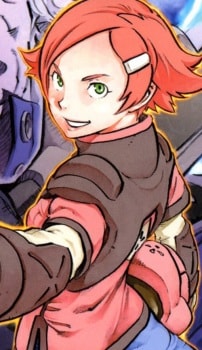 Serah is a fiery, opinionated girl with a lot to prove to herself and her family. As the youngest of three sisters, she has two fine examples of lives she could lead, and she battles with which path she herself should take. She covers this insecurity by powering through whatever situation greets her, and does her best not to talk about her problems to others.

Despite her attempts not to talk to others about her feelings, it's easy enough to unlock her heart for one whose problems are similar, and she has a habit of confiding in people after they crack her shell.

Serah exudes an air of competence and skill, despite her inward turmoil, and it takes Guts to strike up a casual conversation with her.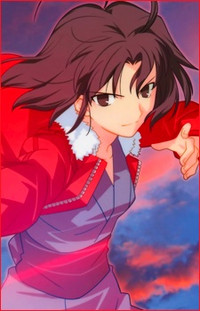 Alexis "Alex" Richards
Priestess
Alex is an accomplished Devil Diver, despite her young age. She is the first in her family to be born with Potential, and she takes the mantle very seriously. She is kind, helpful, and studious, but rarely opens up to people on a personal level. She never begrudges anyone a conversation, and is always willing to help the students with their studies.

Alex is learning the ropes of teaching within the Lion Heart guild, and puts a lot of time and effort into her work. She is still an active diver, however, and is known to join Lion Heart Diving groups that need extra members.

Alex is feminine at heart, even as a warrior, and does her best to balance this part of her life. Though she will admit that she could use more female friends to go shopping with. It's just not the same alone.

Alex will form an SL with anyone who avidly attends her Classes, or anyone whose team she has completed a Dive with.


Alexander is a man who has worked hard for everything he has. He began his career as a Placebo User, until forming a pact with a demon weapon. He values honor, diligence, and constant adherence to the Vanguard code of arms. While Vanguard is often regarded as the "pretty" guild, Alexander reminds students and peers that it is more than appearances, it is presence. Mind, body, and spirit, bent towards showing the masses that their protectors are competent and present.

Perhaps his most fervent belief, one that he frequently shares with his students, is that the Guilds are three branches of the same tree. They are rivals, but as much as they seek to overcome each other, so also do they push each other to excel. Alexander is chivalrous, honorable, and accepting of other guilds' practices, and he expects the same from his students. He has a reputation for being a difficult teacher, but most of his expectations are put in place to make sure his students succeed in the unforgiving world of Devil Diving.

You must prove your Showmanship for this man to take notice of you above the other students under his tutelage.


Doll is an ASSW, and even among them is is quiet and unassuming. She is the heaviest hitter on the "Free Gears" Crux team, and the many say she is the reason the team has made it as far as they have in the Crux circuit. Doll exhibits a human like innocence and confusion in many of her PR videos (hosted mainly by CL
VER, oddly enough) though it's hard to say if that is part of the video, or Doll's actual personality.

The robot's creator and history are mysteries, even to those who play on her team. No one seems to be able to get close to her or find out more about her.

With the right amount of Guts or Strategy you might be able to pry yourself into her mysterious and solitary life.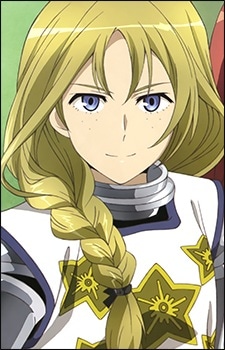 Aliya Monroe, also known as "Canary" or "Siren" to some, is a Devil Diver from the old days of Devil Diving. Years of experience have tempered her into the visage of a collected and soldierly warrior, but underneath the calm, a storm brews. In her youth, Aliya was known for passionate bursts of strength both in Crux matches and in her daily life. Despite being raised as an upright, measured, and composed member of an old family, Aliya was always wild at heart, and was able to unleash that wildness in Crux, or even more so during Devil Dives.

Aliya inherited a powerful Mirage Spirit, Boudica, who has been watching over a member of her family for the last three generations. Aliya does not plan to continue the family line, but it is possible she may pass Boudica onto a willing and worthy successor sometime soon.

Aliya values tenacity and resolve, and if you display the right amount of Guts She may give you the time of day.


Bridgett Algiers, also known as Cordelia, is the undisputed paragon of the Devil Diving world. She remains at the top of the leaderboards for Shadows slain, and is one of the longest standing King's Cross "Kings" of all time. Her appearances are brief, but even so her many many fans adore her and follow all of her PR and social events, though she has little patience for such endeavors. She sees anything other than shadow slaying to be trivial at best, and only plays Crux to maintain her title, and as a form of training against other, hopefully worthy opponents.

She is understandably busy, but if your Reputation Proceeds you, she may just be interested in having a conversation with you. Coming to her as a fan can also be effective, as even with her vast popularity and power she can still sometimes be humbled by the people who -realistically- pay her bills.


Liam and Larissa Cruise
Sun
Liam (left) and Larissa (right) are non-identical twins whose mother and father run the TOP SHELF Game and hobby store. Liam is an incurable prankster and Larissa is sarcastic and opinionated. They have a tendency to get into trouble together, but they are not bad kids. They are friendly, outgoing, and helpful around the shop when it matters (though Liam always seems to be missing when there is stocking to do).

For every time that the two are in perfect harmony, there is another time they find themselves in bitter argument, as is the way with siblings much of the time. As a staple of the TOP SHELF atmosphere, their squabbles often end up involving the customers who know them so well.

No SQ points are required to start an SL with the twins, but a good amount of Showmanship might impress Larissa, and Liam only likes the Gutsiest Devil Divers.


Demon King Viceroy the First
Jester
Demon King Viceroy I is a demon. He doesn't hide it, and he certainly isn't shy about it. He isn't shy about anything, really. He'll regail anyone with his life story who shows interest, or who doesn't show interest. Or who happen to be in the same room when the fancy strikes.

Despite clearly being a Demon, this forceful presence is a friend of Lord Flauros. The two are often seen having lunch or tea on the town(and tend to be the only ones in the establishment at the time).

Demon King Viceroy the First is known to most people as the host of "Deep Diving with Demon King Viceroy the First," a mid-morning talk show where Viceroy interviews Devil Divers and their Sponsors about their exploits, the results of Crux games, and other miscellany about Diving life. Despite his love of talking about himself, he always seems to know what's going on with divers around the city, right down to who they're seeing romantically (which has come up a time or two, unexpectedly). He doesn't have any problems giving advice on these subjects. He's a man of the world, after all.

Those seeking an SL with Demon Lord Viceroy the First must first prove themselves in glorious combat. Not against him of course, they'd surely die, but rather in the sport of Crux. He only takes time out of his busy schedule to meet with Gutsy Divers who display the utmost Showmanship and Strategy.


Sponsorship NPCs
Reginald Fontaine
Heirophant
Fontaine is the Sponsorship representative for Sorcery Shores Games and Toys Co., the company that makes the highly acclaimed Crux Versus card game, as well as many Devil Diver action figures and other merchandise.

Don't let his looks fool you, he may look like villain, but he is a simple pragmatist. He will push you when needed, but he may also lend an ear to your troubles when they interrupt your performance as a Devil Diver. He understands the burden of Diving, if only in theory, and has a certain amount of sympathy to the double life they lead.

To SL Reginald Fontaine you must unlock the Sorcery Shores Sponsor.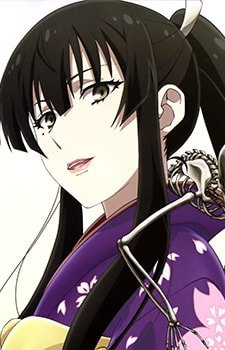 Danette Richards is an editor at Six Story Press, as well as their Sponsor Representative for Devil Divers. She is a writer of romance novels, and has been known to write erotica on occasion as well, though that is not common knowledge. Unlike her younger sisters, Danette was not born with the Potential, but she takes Placebo purely so that she can see the supernatural without the need for an M2D, claiming she hasn't found one that doesn't make her look ridiculous.

Danette is single, despite her clearly apt understanding of relationships and love. She acts as a sage when it comes to the prospect, handing out advice here and there, even going as far as to match people on occasion. Even so, none who work with her could ever say they have seen or heard about her dating anyone. Where did this woman come to understand love so well? Only her younger sister, and closest friends know.

You can only SL Danette after unlocking the Six Story Press Sponsor.


Rydia is a headstrong and passionate woman with a childish eagerness despite her mature appearance. What was once childish banter has become cunning and shrewd insight. Rydia is the Sponsorship Representative for the Clothing brand CL
VER, and does her job with fervor. She knows what she wants, and will often approach potential sponsorship clients before talking it over with the company. Luckily, she has been doing this long enough that they trust her judgement almost implicitly.

Rydia does not have the potential, but her brother, Cecil, was once a relatively well known Diver by the name of Paladin. Rosette is her niece, and she is very protective over her. She is protective over all of her "children" as well - that is all the Divers she has selected to sponsor. She has been known to make threats to those who cross her clients - and usually follows through on them.

Rydia is available to SL once the CL
VER Sponsorship is obtained.


Ken is the Sponsorship representative for the Reytech Pharmaceuticals Company. He is an easy-going and laid-back guy who sees everyone as a friend until they prove otherwise - and even then, no one is without redeeming qualities. Ken is a pacifist, but he loves strategy games like chess and Shogi, and even has been rumored to have been seen at a Versus venue or two.

Ken likes to build personal relationships with those who he sponsors, not unlike the patient-doctor relationship shared by long-time physicians and their clients. In his free time, Ken is known to experiment with medicines and other substances, being fascinated by science and biology in all its forms. Just...make sure you don't unwittingly end up as one of his guinea pigs.

Ken can be SLed after obtaining the Raytech Pharmaceuticals Sponsorship.


James is the Sponsorship Representative of Savage Motors. He loves all things mechanical and is a mechanic himself. He builds and even designs many of the motorcycles build by his company, but is usually found tooling around in the garage, working on the bikes he loves so much.

James's brother, Ashton, is the CEO of the company, and makes all of the executive decisions, despite being the younger sibling. James doesn't like calling the shots, but he's been known to show up at a meeting whenever Ashton needs some extra assertiveness on an issue. Between the two of them, they own the controlling shares of the company, but James prefers not to throw that weight around.

James is very aware of his strengths, and encourages the same self-awareness in the Divers he sponsors. He is honest and forthright, and has no problem telling a Diver in no uncertain terms that they are fucking up their career. He'd expect no less from someone if he was making mistakes himself - lord only knows it's been necessary once or twice in his life.

James becomes available as an SL when receiving the Savage Motors Sponsorship.


Forest Lang is the Sponsorship Rep for Latticework Engineering. The only thing Lang enjoys more than doing his work well, is the power he wields when he is doing it. Lang is a perfectionist, and idealist, and an elitist. He believes that being the best or most known for something is proof of quality, but also stresses that quality is essential for becoming well known.

Forest Lang involves himself actively in the reputation of his divers, making sure they have access to all the best opportunities before other reps even catch wind of the events. "Reputation is where Crux battles are won, long before you enter the arena" is something he stresses to all his clients, and expects - demands - that those he sponsors step up to his rigorous schedules and handle the events he plans with efficiency and attentiveness. He has a reputation for being one of the best reps, but also one of the hardest to work for.

Forest Lang's Social Link becomes available only once the Latticework Engineering Sponsorship is obtained.