Persona Name: Yhoundeh
Persona Type: Tainted Persona
Persona's Arcana: Death
Owner: Lorielle Rutherford
Persona Appearance: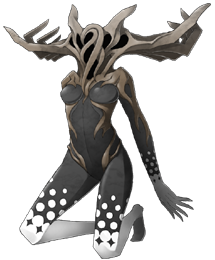 Persona Background: In the "Hyperborean Cycles", which is a small group of short stories written by Clark Ashton Smith, their world takes much after the Lovecraftian Mythos including their deities and otherworldly beings. In a certain story called "The Door to Saturn", Yhoundeh is depicted as an elk goddess that was worshiped in the land of Hyperborea's waning days. Her followers worshiped her immensely, banning other cults and punishing the heretics who did not believe. She is a bit taller than Lorielle at the height of around six feet with horns covering what barely qualifies as a face or head on her body. Within this story is a manuscript called the "Parchments of Pnom" that explains that Yhoundeh is actually the wife of Nyarlathotep, the avatar of the Outer Gods.
Strengths: Dark
Weaknesses: Wind
Passive Boosts: 15% boost in Dark-based skills.
Tainted Persona Skill List:
Skill 1: Bufu | Inflicts a small amount of Ice damage to one enemy. | 4 SP | Tier 1
Skill 2: Cleave | Inflicts a small amount of Slash damage to one enemy. | 5% HP | Tier 1
Skill 3: Mudoon | 50% chance of instant death from the power of Darkness to one enemy. | 12 SP | Tier 2 (65% chance due to Arcana bonus)
Skill 4: Mediarama | Recovers a moderate amount of HP (60%) to all allies. | 16 SP | Tier 2
Skill 5: Maziodyne | Inflicts a large amount of Electrical damage to all enemies. | 32 SP | Tier 3
Skill 6: (Unlocked once using your Tainted Persona thirty times in combat and having stopped a Persona-User from completing a Dungeon; Must be a Tier 3 Skill or Lower)
Skill 7: (Unlocked once using your Tainted Persona to defeat four Persona-Users and using your Persona 50 times in combat; Must be a Tier 4 Skill or Lower)
Skill 8: (Unlocked after defeating one of the NPC Velvet Attendants in combat; Must be a Tier 4 Skill or Lower)
Possessed Form Name: Pnom Youndeh
Persona Name: Yhoundeh
Possessed Form Appearance: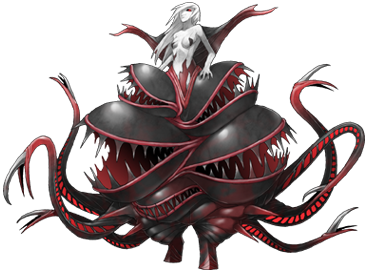 Description: Whenever she has to transform, she normally would be losing the fight, or if fighting alongside other comrades, using it to assist them. The moment she wills it, she drops to the ground on her knees, laying her head to the ground while clutching it. The pain in her head causes her to shout a horrible, painful scream, as well as blood dripping from random orifices on her face (i.e. one or both of her ears, her nose, her eyes, etc.). At that moment a red and black spot forms on the ground under her from the blood, and tendrils come out to grab her, still sometimes scaring her. The spot turns to a smooth goo-like substance and covers her. Then the goo forms upward, and takes the shape of the monster she has turned into. She groans a bit in pain whenever she attacks, as the attacks cause strain on her, and shouts when performing more powerful attacks, and even though she can think to herself no problem, can only manage a few clear words or phrases sometimes in this form. She also physically has a much wider and longer range than of her previous human state and her naginata. Including her multiple tendrils which can extend over a large area; roughly the size of a football field, and grab her opponents, doing what she will with them. They also can hit the opponent multiple times being multiple tendrils from her grotesque form.
Team Attacks:
Aithne "Gabby" Gabriela:
Frozen Maelstrom | Tier 2 | Unleashes a Ice and Wind Elemental tornado to hit all enemies with a 30% Chance to down a random enemy if they are not strong to it.
Current Stats
(As of 11/29/13)
HP: 104 (154 with the Mark of Chaos)
SP: 108
PEnd: 8%
MEnd: 12%
Pmstr: 34
Ppstr: 35
Dx: 27
Lk: 26
Experience
Number of Persona Uses: 31
Number of Dungeons Cleared: N/A
Number of PvS Battles Won: 3
Number of Persona-Users Defeated: N/A
Equips
Weapon: Naginata
Body: N/A
Feet: N/A
Accessory: Mark of Chaos - An item for Nyarlathotep Children only. Those who achieve their Tainted Persona gain a 50+ HP boost in PvS phase combat.
Items
1 Nihil Soul
Snuff Soul: Restores 50SP to one ally.
Revival Bead: Revives a fallen ally with half their HP.
Traesto Gem: Enables instant escape or entrance into or from Limbo for yourself or all party members.
Skill Card: Allows user to rank up automatically and gain a new skill.
Money
0 Vc