Give a man a hustle and he'll make a couple silver. Teach a man to hustle and ya got an up-an'-comin' thug on yer hands.
I
happen to be the master a the hustle, ya hear? But I ain't do that no more, least not that often. But this is one'a those times. Y'see I got an idea in my brain box like I sometimes do and it's gonna make Ol' Grubby some money, yessir. Last time I was up here I happened to partake in somethin' that no one else did and I got to noticin': maybe I can use this to get a 'lil less empty in the pockets. Y'know, get me some'a that sweet sweet
fuck you
money. Y'know, cuz fuck you it's my money. Keh heh, kaaaa haaa- *
aaack hack!*
Uuuuurgh... goddamn I gotta quit smokin'. Or quit breathin', whichever comes first. So I bet yer askin' yerself
The fuck is that 'lil green asshole doin' now?
to which I'd say
yer fuggen mom's what I'm doin', she got a face like a horse but lips like an angel
. But I'm up here at that there pond again, got mah chair set up and my rod out in the water. Also I'm fishin' too. Heh.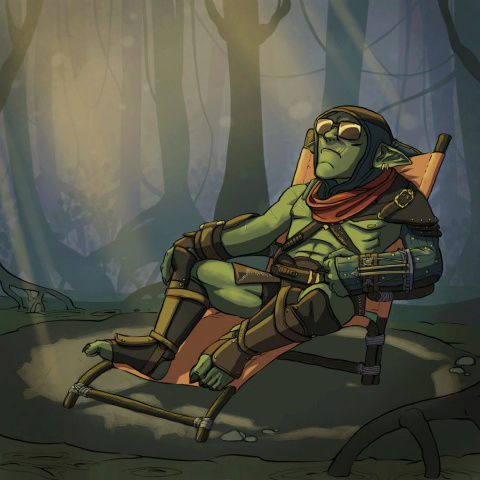 Easiest way to make some dough right here. I get to lay back and look uglier 'n slow baked shit sippin' some'a that cold lemonade while I wait fer somethin' to swim up and tug on my pole. I ain't even care if it buys me dinner first, long as it wraps it's mouth around my worm I'm a happy guy. Aright aright, I'll fuggen stop, that's the last one. But anyway, I don't get why fishermen are always bitchin' 'n moanin' 'n bellyachin' about how they got it so hard. All I'm doin' is cookin' in the sun while I wait for somethin' to stop by and let me grab it outta the water.
But Grubby
I hear you ask,
how is fishin' gonna get you any money?
to which I'll tell ya
If I wanted any shit from you I'd squeeze yer fuggen head
but I got a fuggen idea, that's why. Lotta people 'round here show up to buy stuff and spend money and all that doin' nothin' all damn day makes a guy hungry. So's I'm gonna give the people what they want and I'm gonna run a food cart. People
love
food carts! At least the normal one. Somethin' about a greasy jagoff covered'n sweat and smellin' like wacky tobaccy that makes the food taste like Pelor gave it his fuggen blessin'. And I'm thinkin' hey, I ain't know no one as greasy as me so the way I sees it I can't lose. 'Sides, if I can't sell anythin' I know a guy that'll buy it. I heard'a some lanky motherfucker that eats everythin' an' makes it taste like elf tits so I bet I can get'im to buy some damn fish from the pond. Lemme ask ya this, how many people you think fish outta this pond? I been here a few days and I ain't see no one do what I'm doin' yet, maybe they don't think fish ain't live here. Fuggem, more for me. But I'm gettin' a tug on my line, so time to go to work. Gotta reel that scaly bastard in.
~~~~~~~~~~~
Now lookit all this shit I got here! Piles a fish in a wicker basket, got some slow roastin' right over the fire there. I got my stall up and I got mah sign. Can't fuggen read or nuthin' so it's just a picture of a fish over a fire, I think people'll get the point. I'm cookin' some damn fish out here, it ain't like they're gonna be gettin' confused. Stand looks like someone abused a tool shed though but I ain't think anyone'll mind it. Just as long as they don't lean too close, lotta exposed nails on that thing. Not my best work but I don't wanna be here all damn day. Now I know what yer thinkin', even if it looks like I'm half-assin' this shit I'm puttin' my heart and soul in there. I got me some spices and a nice orcish rub or fuggen close to it from what I could get from the market. Shit's got a nice spicy tang to it, real lick yer fingers shit. Got some taters in a skillet that I cut into circles, make some good ol' disk fries. And fer drinks I watered down that fuggen nasty ass crab apple juice. ...what? I gotta get rid'a that shit, it's gonna drive me up the fuggen wall.
Now I ain't expectin' much so early, just scalin' fish and choppin' taters when I get me someone interested. Now I know I smell like burnin' pig lard but this shit here? Fuggen heavenly. Ain't nothin' like the smell a spit roast fish and fried taters and
ain't fuggen nothin'
like orcish barbecue. You say what you want about them big dumb motherfuckers, they roast a mean boar. But I get... somethin'... walk up to my stall. Thing's like three'a me tall and it's got weird robes an' about six arms. I dunno how else to fuggen describe it, yer outta luck buddy.
"What is this you have here?"
it hums or whispers or I don't fuggen know. But I got a customer, s'all that fuggen matters.
"Got some fish, motherfucker! Real down home shit like momma used'ta make if she had a pair I tell you fuggen what. Sellin' fish 'n fries 'n some'a this here punch fer a silver."
"What is silver?"
"Fuggen, like 5 a them Vee See or whatever. Ya want some?"
"Is it vegan?"
"Fuck if I know, I didn't ask it 'fore I threw it on the spit. It's fuggen finger lickin' good is all you gotta know."
"What does it taste like?"
"Throw some'a this shit in yer mouth there and find out." Fuggen jagoff wantin' freebies. But I be all obligin' and a peel off a good flake.
"Mmm... hmmm! That's good. Very good."
"I fuggen know, right?! Ol' pal'a mine showed me one day, best fuggen fish I ever ate."
"I will take some."
"Pleasure doin' business with ya motherfucker, tell yer fuggen friends!"
~~Word Count: 1,082~~