"We are never alone...each of us has the ones we have met and known inside us always"
Trinity Allaway's Social Links
Qualities


Expres​sion:Plain rank 1 (0/14 points till rank up)

Understanding:Basic rank 1 (8/14 points till rank up)

Intelligence:Average rank 2 (38/80 points till rank up)

Courage:Timid rank 1 (4/14 points till rank up)

Social Links
MOON
The First link: Selenus Met during
A walk by the gardens
Seemed very nice and polite, a very nice dog Robot, proud but needed a place to stay, Eventually agreed to stay in our home, lets me call him friend.
Met Selenus once more, while Sitting in a park, He stumbled upon us talking to Tatsui while the latter was enjoying some
Time for a jog
We tall talked and afterwords we headed home with Selenus to introduce him to our parents.
(Social link Rank 2)
Selenus Has moved in with us now, he sleeps in the room with us, Our parents seemed to not mind at all about him, thinking he would be a good guardian for us. We had a talk about some
Questionable Content
in the lyrics and the like that my Agent gave to me. He seemed concerned when I told him about one of my old bodyguards though. (rank 3)
Had a
Together Breakfast
with Tatsui, Selenus, and Gabe to talk about the things we had planned to do, some things where talked about but I learned a bit more about what drives Selenus (Rank 4)
Had a talk with Selenus
After breakfast
, so we could discuss something important, I am glad he understands us a lot better now, and we understand him a bit better as well (rank 5)
Had selenus Come down to my shop and
Welcomed to Symphonic sanctuary
, we hada long talk, and a new sibling seems to have arrived, her Name is Yuuko...and she seems to be in love with Selenus...We had a long talk about it and after some time came to an understanding...this new sibling...seems to be a lot like Lilith in a few way (Rank 6)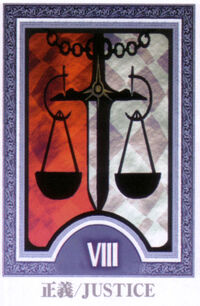 JUSTICE
The Second link: Tatsui Kitao met while
Train Watching
, A very nice man, seemed to think it was amazing that we had so many skills, but we think he has many we may not know, maybe he is far better at a lot more things they we are?
Happened upon us while he was enjoying some
Time for a jog
and we talked for a bit, though we were joined by Selenus after not to long, we all talked and enjoyed each others company, afterwords before we left we suggested that we all gather some time for a meal, and We know just the place.
Met a third time With him during a
Meeting in Suzie Q
Along with others, he seemed to surprised to learn we are an idol, but otherwise he seemed to not really mind to much, seemed he was partially preoccupied but we hope he enjoyed the time spend
(Social link rank 3)
Had a
Together Breakfast
with Tatsui, Selenus, and Gabe to talk about the things we had planned to do, some things where talked about but I learned a bit more about Tatsui and what he hoped for and a bit more about how he thinks (Rank 4)
SUN
The Third link: Brittany Wilson Met during a
A normal day
, Seemed to be rather nice and extremely talkative, didn't really spend much time talking to me, and more talking to Michael who was met at the same time. A beginning model from what we can remember from seeing her before. (Rank 1)
EMPEROR
The Fourth Link: Michael Williams Met during a
A normal day
, Seems very laid back, walked into a wall just as we met him, seemed to casually flirt with Brittany who we also met and who seemed to return the flirting a bit. Rather dismissive of most things, or uninterested perhaps? didn't really talk to me all that much at the time, but accepted the coffee.
Met him once more during a
Meeting in Suzie Q
He seemed as distant as usual, but we are starting to understand that it's just how he is, and he isn't meaning anything really by it, Seems to be in a relationship with Brittany, or at least has dated her once, wished him good luck with that before we parted ways.
(Rank 2)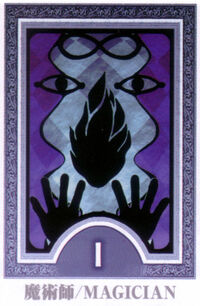 MAGICIAN
The Fifth Link: Gabe Gatsby Met him while I was enjoying some
Time in the art room
He seemed nice, was looking for a club to join before his time in school was over, said he would return sometime to show us a magic trick. We will have to remember to bring cards.
Met him once more as he was making
Good on a promise
[/quote]. As he had promised to come and show us his skill with magic tricks, it was quite an enjoyable time, We are now planning to show him our skills with out instruments the next time we meet.
(Rank 2)
Once more Met up with Gabe, this time I gave him a
Private Show
He seemed to like it, and so I gave him a ticket to my next concert, he seemed to really be excited, and mentioned something about virginity...I iwll have to ask Selenus what that is. (rank 3)
He attended
Trinity's second Holographic concert
and we had a chat with him after the show, he seemed quite happy to be there and enjoyed our music it seemed, he invited us to go to his shop and sample some of his books, we hope we find something to our liking Though we assume we will. (rank 4)
After a incident at the breakfast..it was decided that
we gotta make up sometime
and we Believe that we are slowly having him learn more about us, I do hope this all goes well. (Rank 5)
After a meeting with Alister. Gabe got to have some time
Meeting Myrna
and I think we understand him more then he understands us at the moment, but we do hope he continues to talk with us (rank 6)
It was finally Decided that the task of Gabe finally
Meeting Nola
had arrived, thought it was with some apprehension given the state of Nola, and the way Gabe had been acting, though we have seen through what Gabe is and why he acts that way and so we are glad we took this risk, we now better understand our friend, and it seems Nola is better for the meeting (rank 7)
Spent some time at the
Platinum playhouse
, there were other new people as well, Gabe was there, and we talked with some of the newest members, about what we do, how we will do it...it ended up turning into us talking to quite a few others later that night, but it was nice to talk with everyone at least a little (rank 8 )
TOWER
The Sixth Link: Hatsuharu Yoshima Met him at
Trinity's First Holographic Concert
, he had come to the back of the stage due to some mix up with the ticket, he was rather polite and we decided to be upfront with him, and in turn he did the same for us. Very relaxing to talk to. (Rank 1)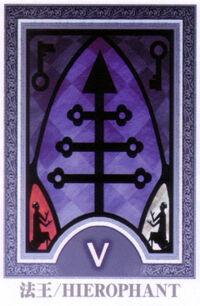 HIEROPHANT
The Eighth link: Takeru Kagemaru met him and others during a
Meeting in Suzie Q
Seemed rather energetic We wonder if his skills at that rhythm game translate to skill at a real piano? seemed very friendly.
Met once more as he called us to meet him in an empty auditorium, he asked us
"Why do you play?"
, he seemed rather confused on to why he called us, but in the end he seemed to want to simply talk, Though we are unsure as to why he required us to do it in such a private venue. He shared a few personal experiences by way of story with us, though seemed very keen to know more about us. (Rank 2)
JESTER
The Ninth Link: Frogerio Phillip Zander Met him while out
relaxing in the park
after he came out to get his sister, Tee, she seemed nice as did he, We hope to talk to them again sometime (Rank 1)
Ended up
Meeting the Frog once more
and had a talk about things as they were (Rank 2)
Had another
Meeting with the Frog
Seems we have gotten through to him and that is good, hopefully things go well for them in their choice of path though. (rank 3)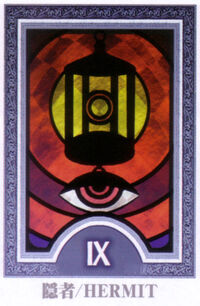 HERMIT
Met a clown named Grins who seemed to be having a
blah afternoon
Agreed to letting me teach him how to play an instrument, in exchange for him teaching me to be a clown. (rank 1)
TEMPERANCE
Found the Lost
Man named Liam who seemed to know who Gabe was, however, as we have never heard Gabe talk of someone like this we decided it was best to downplay our association will have to talk to Gabe about this man Later (Rank 1)
JUDGMENT
Abettors of Chaos (rank 1)
DEATH
Met a boy named Cecil, in the garden where I first met Selenus, we talked about a lot of things, people lost and apparently he was having troubles as well, and I tried to help the best I could. (Rank 1)
Grime and Growth
LOVERS
Met together with others at the
Platinum playhouse
, a person named Ribbon was one of those people, they seemed to be rather flustered with things I do hope they calm down. (rank 1 with Tomomi Jōmyaku)
DEVIL
Met together with others at the
Platinum playhouse
, a rather disruptive character named Wicked was one of those people, they seemed to not like to talk about some of the things that happened, I do wonder if they will be cut out for all this. (rank 1 with Patricia McDowell)