Note to self: When getting primed in non-hobby, us the Ixbalanque version in storage, not this one.
Persona Names:
Ixbalanque
Persona Type:
Prime Persona
Persona's Arcana:
The Moon
Owner:
Selenus
Persona Appearance: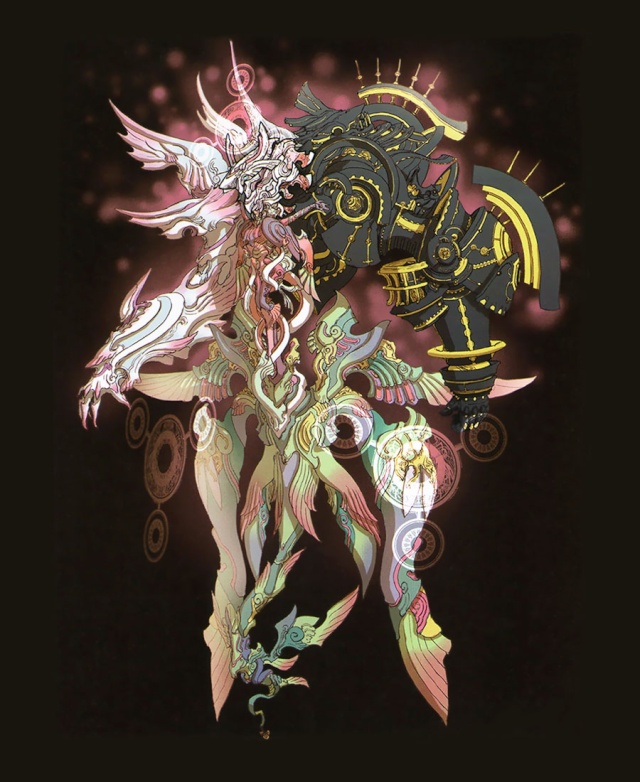 Persona Background:
In Mayan mythology, Ixbalanque is mentioned in the Popol Vuh as a warrior that travelled to Xibalba to kill the Lords of the Underworld, who had sacrificed his father to the greater deities. After overcoming the Lord of the Underworld's numerous challenges with help from his brother Hanahpu, Ixbalanque finally avenged his father and ascended to the heavens to become the moon itself.
Blocks:
Fire
Strengths:
None
Weaknesses:
Earth
Passive Boosts:
+15% boost to Pierce skills and Pierce dexterity attacks.
Persona Skill List:Skill 1:
Arrow Rain | Inflicts a moderate amount of Pierce damage twice to all enemies. | 18% HP
Skill 2:
Pierce Master | Increases Pierce based dexterity damage output by 30% | Passive
Skill 3:
Regenerate 2 | Recovers 4% of max HP on each user turn | Passive
Skill 4:
 Regenerate 3 | Recovers 6% of max HP on each user turn | Passive
Skill 5:
 Power Charge | The next Slash, Strike, Pierce, or Almighty physical attack will be 2.5 times greater in power. | 15 SP
Skill 6:
Vile Assault | Inflicts a large amount of Pierce damage to one enemy with even greater power (50%) if the target is knocked "Down" or recovering. | 18% HP
Skill 7:
Diarahan | Recovers all HP to one ally. | 20 SP
Skill 8:
Arms Master | Halves the HP cost for physical attack skills. | Passive
Soul Skill Name: Electrocution
Persona Name: Fenrir
Tier: Tier 1
Cost: 5 SP
Type of Damage: Zio
Description: Selenus uses the wires on his tail to electrocute the enemy. Has a 20% chance of inflicting Static Shock on the enemy.
Soul Skill Name: Structural Scan
Persona Name: Ixbalanque
Tier: Tier 2
Cost: 15 SP
Type of Damage: N/A
Description: Selenus scan's the physical structure of the enemy, revealing soft spots in their frame that can be exploited with piercing force. Nullifies one enemy's Pierce resistance for 3 turns.
Soul Skill Name: Determination
Persona Name: Ixbalanque
Tier: Tier 3
Cost: Passive
Type of Damage: Passive
Description: Selenus is determined to accomplish his goals, no matter what it takes, and as such is constantly invigorated. Recovers 7 SP on each user turn.