Persona Name:
Malakbel
Persona Type:
Initial Persona
Persona's Arcana:
The Sun
Owner:
Vincent Matthews
Persona Appearance:
Persona Background:
Malakbêl was a sun deity of the city of Palmyra in pre-Islamic Syria. The meaning, in Aramaic, is "Messenger of Baal" or "Messenger, or Angel, of the Lord".
The Greek identified Malakbel with Hermes, and the Romans with Sol. He was also similar to the Babylonian sun god Shamash.
Malakbel is usually accompanied by the Moon god Aglibol, and sometimes the goddess Allat.
Strengths:
Fire
Weaknesses:
Wind
Passive Boosts:
15% boost to fire skills
Persona Skill List:
Skill 1: Maragi | Inflicts a small amount of Fire damage to all enemies. | 6 SP | Tier 1
Skill 2: Bewilder | 25% chance of inflicting the Distress ailment to one enemy. 50% chance of landing a critical hit on the distressed enemy for the next 3 turns. | 5 SP | Tier 1
Skill 3: Cleave | Inflicts a small amount of Slash damage to one enemy. | 5% HP | Tier 1
Skill 4: Mahamaon | 40% chance of instant death from the power of Light to all enemies. | 24 SP | Tier 2 (Unlocked once forming your first Social Link; Must be Tier 2 Skill or Lower)
Skill 5: Fire Boost | Increases Fire damage output 25% | Passive | Tier 2 (Must have used your Persona fifteen times in combat; Must be a Tier 2 Skill or Lower)
Skill 6: Distress Boost | Increases odds of instilling Distress by 25% | Passive | Tier 2 (Unlocked once using your Persona thirty times in combat and having formed three rank three or more social links; Must be a Tier 2 Skill or Lower)
Skill 7: Agilao | Inflicts a moderate amount of Fire damage to one enemy. | 6 SP | Tier 2 (Unlocked once using your Persona to help atleast two friends overcome their Shadow; Must be a Tier 2 Skill or Lower)
Skill 8: Deathbound | Inflicts a large amount of Slash damage with 40% odds of Critical to all enemies. | 18% HP | Tier 3 (Unlocked after defeating your fifth Dungeon Master and Persona used 50 times in combat; Must be a Tier 3 Skill or Lower)
Fusion Attack:
Fusion Attack Name:Persona Name:Type of Damage:
(Elemental Damage such as Zio, Agi, Garu? Pierce/Strike/etc?)
Description:Human Skill Name:
[What's the tech called?]
Persona Name:
[The name should match one of your Personas]
Tier:
Tier 1
Cost:
[Make it realistic. Physical damage moves is HP for a cost. Magic is SP]
Type of Damage:
[Self Explanatory]
Description:
[Explain what happens when you perform this technique]
___________________________________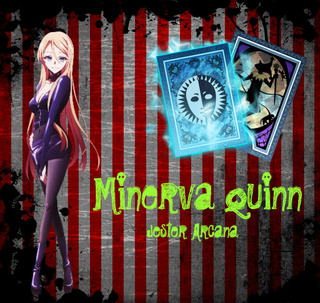 Minerva - Level 2: