Persona Name:
Wolfman
Persona Type:
Tainted Persona
Persona's Arcana:
The Strength
Owner:
Gabriel Labas
Persona Appearance:
Persona Background:
A Wolfman or as more commonly known, a Werewolf, is a mythological or folkloric human with the ability to shapeshift into a wolf or a therianthropic hybrid wolf-like creature, either purposely or after being placed under a curse or affliction (e.g. via a bite or scratch from another werewolf). Early sources for belief in lycanthropy are Petronius and Gervase of Tilbury. It's a common folktale that has brewed a lot of myths about the beast. This Persona is nine feet tall, and brutish in form.
Strengths:
Wind
Weaknesses:
Earth
Passive Boosts:
15% boost in physical skills
Tainted Persona Skill List:
Skill 1: Regenerate 1 | Recovers 2% of max HP on each user turn | Passive | Tier 1
Skill 2: Dia | Recovers a small amount of HP (30%) to one ally. | 4 SP | Tier 1
Skill 3: Magarula | Inflicts a moderate amount of Wind damage to all enemies. | 12 SP | Tier 2
Skill 4: (Unlocked once using your Tainted Persona 15 times in combat; Must be Tier 2 Skill or Lower)
Skill 5: (Unlocked once winning atleast 10 PvS battles; Must be a Tier 3 Skill or Lower)
Skill 6: (Unlocked once using your Tainted Persona thirty times in combat and having stopped a Persona-User from completing a Dungeon/have used Soul Overwrite on five people (NPCs or PCs); Must be a Tier 3 Skill or Lower)
Skill 7: (Unlocked once using your Tainted Persona to defeat four Persona-Users or having used Soul Overwrite on ten people (NPCs or PCs) and using your Persona 50 times in combat; Must be a Tier 4 Skill or Lower)
Skill 8: (Unlocked after planting the Apelpisia Disease in twenty people (NPCs or PCs) and having beaten and used Soul Overwrite on at least three Persona-Users (PCs obligatorily); Must be a Tier 4 Skill or Lower)
Tainted Soul:
(The Ultimate fusion between you and your Tainted Persona. When using this, your Persona fuses within your soul, corrupting it and transforming you into a higher being temporarily. Once this is done, you take on a more otherworldy appearance thanks to being possessed by your Tainted Persona, but your stats are all doubled. This form lasts for three turns, and once it is over you revert back to your original form and all your stats are reverted to 1 till the end of the topic or you use an item/skill to recover. This can only be used once per topic and once being used, your Tainted Persona can no longer be used within the same topic.)
Possessed Form Name:
The Big Bad Wolf
Persona Name:
Wolfman
Possessed Form Appearance: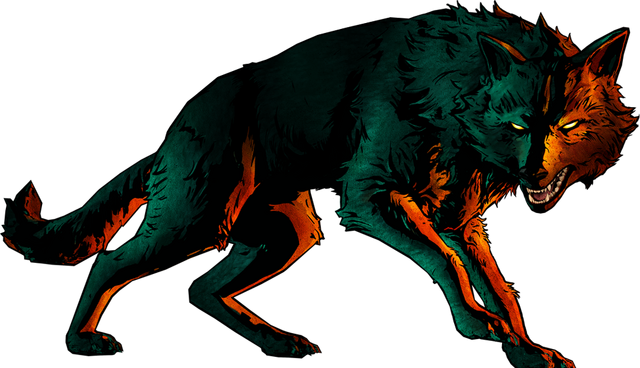 When transforming, he becomes a large wolf, easily the size of an elephant in comparison. His eyes continue to glow golden, covering his entire eyeball. Apart from that, nothing truly separates him from a wolf in appearance.
Description:
Human Skill Name:
Eyes of Fear
Persona Name:
Wolfman
Tier:
Tier 1
Cost:
8 SP
Type of Damage:
N/A
Description:
Using this skill, Gabriel begins to emit an aura of fear, which repels various enemies. This causes the enemies to attack other players. The skill lasts for the next turn. However, when using the skill, it has a 20% chance to fail in PvS. In PvP, the player will be inclined to target someone else.  If in PvS Gabriel is the only target, it gives him a 30% chance to dodge an attack the following turn. In PvP if he is the only target, the attack will just have a somewhat better chance to miss, as the foe is still sort of intimidated, but obviously they cannot simply move their target to something else entirely. This skill does not bypass AoE skills, meaning if an enemy uses an AoE skill, then Gabriel will still be a target.
Extra Skills:
Makakaja | Raises all allies' MEnd by 40% for three turns | 12 SP | Tier 3
Stats:
HP: 113
SP: 93
PEnd: 4%
MEnd: 19%
Pmstr: 28
Ppstr: 30 (40)
Dx: 21
Lk: 32
Equipment:
Head:
Body: Voodoo Armor | For those mages who just don't know when to quit. Raises MEnd by 15% and grants the skill Makakaja. | Body
Feet: Dragon Leggings | These shin guards will make your enemies wish you had NEVER encountered them. Yaaa-ta! Boosts Ppstr by 10 points. | Feet
Accessory:
Soul Gem: Freakshow's Nature | A packet of cigarretes belonging to an unknown brand. They seemingly are replenished every day without explanation. When equipped, User's weapon deals 15% more damage with the Ice element. (regular damage + Ice). | Soul Gem (Unique)