Persona Name:Chronos
Persona Type:Initial Persona
Persona's Arcana:Fortune Arcana
Owner:Satoshi Enoshima(S.A.M)
Persona Appearance: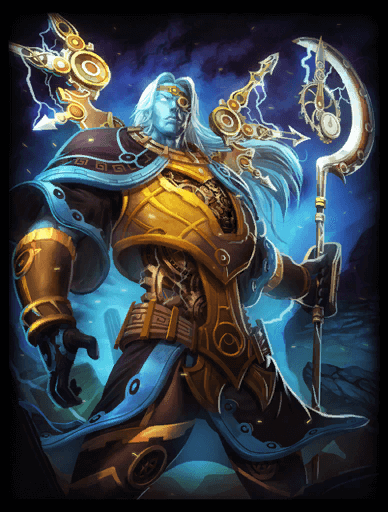 Persona Background:Chronos was imagined as a god, serpentine shape in form, with three heads—those of a man, a bull, and a lion. He and his consort, serpentine Ananke (Inevitability), circled the primal world egg in their coils and split it apart to form the ordered universe of earth, sea and sky.
Chronos was confused with, or perhaps consciously identified with, due to the similarity in name, the Titan Cronus already in antiquity, the identification becoming more widespread during the Renaissance, giving rise to the allegory of "Father Time" wielding the harvesting scythe.
He was depicted in Greco-Roman mosaics as a man turning the Zodiac Wheel. Chronos, however, might also be contrasted with the deity Aion as Eternal Time (see aeon).
Chronos is usually portrayed through an old, wise man with a long, grey beard, similar to Father Time. Some of the current English words whose etymological root is khronos/chronos include chronology, chronometer, chronic, anachronism, and chronicle.
Strengths:Wind
Weaknesses:Ice
Passive Boosts:15% boost in wind-based skills.
Persona Skill List:
Skill 1: Garu
Skill 2: Magaru
Skill 3: Double Fangs
Skill 4: Arrow Rain
Skill 5: (Must have used your Persona fifteen times in combat; Must be a Tier 2 Skill or Lower)
Skill 6: (Unlocked once using your Persona thirty times in combat and having formed three rank three or more social links; Must be a Tier 2 Skill or Lower)
Skill 7: (Unlocked once using your Persona to help atleast two friends overcome their Shadow; Must be a Tier 2 Skill or Lower)
Skill 8: (Unlocked after defeating your fifth Dungeon Master and Persona used 50 times in combat; Must be a Tier 3 Skill or Lower)
Fusion Attack:
Fusion Attack Name:Orgia Mode
Persona Name:Chronos
Type of Damage:None
Description:This mode lasts 3 turns and allows the Weapon to use skills without the use of HP or SP while also attacking twice per turn [PvS phase combat only for double attack. In PvP Phase combat, Orgia mode instead raises all stats by 15% and allows use of skills without use of HP or SP]. Orgia mode also allows the Android to perform superhuman feats, such as enhanced strength, flight, etc (these must be strengths listed on your application.) Once the mode is over, they over heat and must rest for 3 turns after, meaning they can not move or defend themselves in that period of time
Human Skill Name: Golden Time
Persona Name:Chronos
Tier:Tier 1
Cost: 12 SP
Type of Damage: None(Healing)
Description:recovers 15% Health and SP to everyone.
STATS
HP: 71
SP: 51
PEnd: 2%
MEnd: 2%
Ppstr: 15
Pmstr: 19
Dx: 9
Lk: 8
INVENTORY
EMPTY
EQUIPMENT
Weapon: N/A
Body: N/A
Head: N/A
Feet: N/A
Accesory: N/A
MONEY
0 VC
EXPERIENCE
Number of Persona Uses: 0
Number of Dungeons Cleared: 0
Number of People Saved: 0
Number of Shadows Defeated: 0
Number of Opponents Defeated: 0