Persona Name:
Jack the Ripper
Persona Type:
Prime Persona
Persona's Arcana:
Devil
Owner:
Julian Remming
Persona Appearance: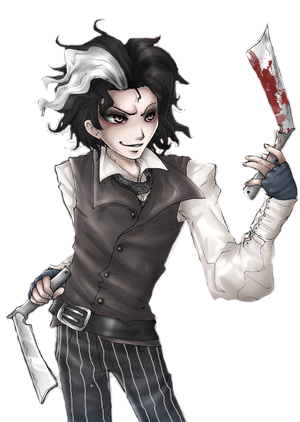 Persona Background:
Known for committing gruesome murders from August 7 to September 10 in 1888, "Jack the Ripper"—a moniker for the notorious serial killer, who was never identified—remains one of England's, and the world's, most infamous criminals.
The culprit responsible for the murders of five prostitutes—all took place within a mile of each other, and involved the districts of Whitechapel, Spitalfields, Aldgate and the City of London—in London's East End in the autumn of 1888 was never apprehended. Despite countless investigations claiming definitive evidence of the brutal killer's identity, his name and motive are still unknown. The moniker "Jack the Ripper" originates from a letter written by someone who claimed to be the Whitechapel butcher, published at the time of the attacks.
Adding to the mystery of the affair is the fact that several letters were sent by the killer to the London Metropolitan Police Service, also known as the Scotland Yard, taunting officers about his gruesome activities and speculating on murders to come. Various theories about Jack the Ripper's identity have been produced over the past several decades, which include claims accusing the famous Victorian painter Walter Sickert, a Polish migrant and even the grandson of Queen Victoria. Since 1888, more than 100 suspects have been named, contributing to widespread folklore and ghoulish entertainment surrounding the mystery.
The series of killings that began in August 1888 stood out from other violent crime of the time: They were marked by sadistic butchery, suggesting a mind more sociopathic and hateful than most citizens could comprehend. Jack the Ripper didn't just snuff out life with a knife, he mutilated and humiliated women, and his crimes seemed to portray an abhorrence for the entire female gender.
When Jack the Ripper's murders suddenly stopped, in the fall of 1888, London citizens wanted answers that would not come, even more than a century later. The ongoing case—which has spawned an industry of books, films, TV series and historical tours—has met with a number of hindrances, including lack of evidence, a gamut of misinformation and false testimony, and tight regulations by the Scotland Yard. Jack the Ripper has been the topic of news stories for more than 120 years, and will likely continue to be for decades to come
Blocks:
Strike
Strengths:
Wind
Weaknesses:
Ice, Electricity
Passive Boosts:
All buffs/debuffs have a 15% boost
Persona Skill List:
Skill 1: Fatal End | Inflicts a moderate amount of Slash damage to one enemy. | 14% HP | Tier 2

Skill 2: Auto-Tarukaja Begin the battle with Tarukaja cast on yourself. | Passive | Tier 2

Skill 3: Tarunda | Lowers one enemy's Attack by 30% (45% with Devil boost) for 3 turns. | 6 SP | Tier 2

Skill 4: Deathbound | Inflicts a large amount of Slash damage with 40% odds of Critical to all enemies. | 18% HP | Tier 3 (Unlocked once completing one plot mission; Must be Tier 3 Skill or Lower)

Skill 5: Marakunda | Lowers all enemies' Defense by 30% (45% with Devil boost) for 3 turns. | 12 SP | Tier 3 (Must have used your Prime Persona twenty five times in combat; Must be a Tier 3 Skill or Lower)

Skill 6: Akasha Arts | Inflicts a large amount of Strike damage up to 2 times to all enemies. | 20% HP | Tier 3 (Unlocked once using your Persona forty five times in combat and having formed five rank six or more social links; Must be a Tier 3 Skill or Lower)

Skill 7: High Counter | 20% chance of repelling Physical attacks | Passive | Tier 3 (Unlocked once using your Prime Persona to defeat atleast six bosses/sub-bosses/Nyarlathotep Children; Must be a Tier 3 Skill or Lower)

Skill 8: Arms Master | Halves the HP cost for physical attack skills. | Passive | Tier 4 (Unlocked after maxing 3 social links and Prime Persona used 60 times in combat; Must be a Tier 4 Skill or Lower)
Fusion Attack Name:
Butcher on Whitechapel
Persona Name:
Jack the Ripper
Type of Damage:
Slash, single-target, with a 20% chance of instilling fear
Description:
Jack's eyes will turn red as he grins coldly at his opponent, soon springing himself into the air and out of sight. Laughing maniacally for a few seconds, he'll eventually come out of hiding and launch himself at his adversary, swiping his nails at them before darting away once more. While Jack does this, Julian sneaks up from the opposite direction and, while his foes are distracted, will slash at them with his stiletto. After hitting from both sides, Jack and Julian will rush their enemy head-on and deliver a flurry of attacks, with a 20% chance of instilling fear into their target.